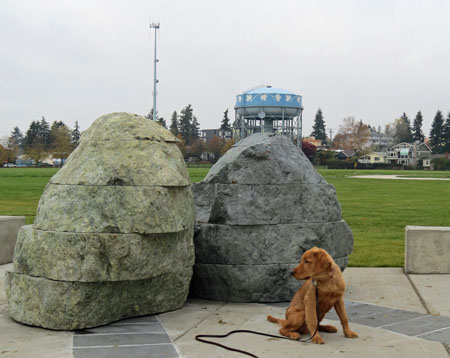 Confluent Boulders. Inspired by the two water sources that feed the Maple Leaf Reservoir, the sculpture comprises two boulders taken from the Tolt River and Cedar River watersheds. (Thanks for the quick description, Donna. For more from Friends for a Greater Maple Leaf Park, scroll down.)
The fence around our park is (largely) down this morning, and people are strolling the upper circle.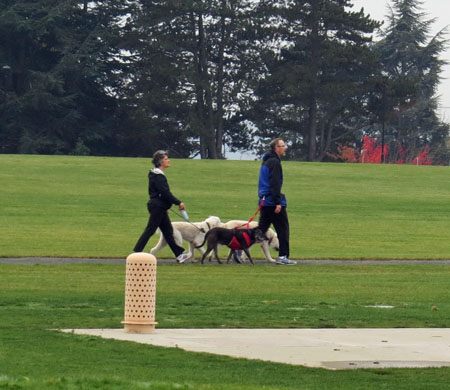 Dozens of them, with children and dogs.
(Dog owners beware: There is lots of tasty Canada Goose poop in the grass.)
Official opening is at 2:30 p.m. Sunday.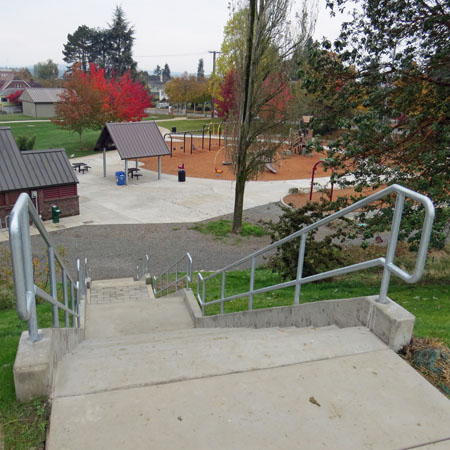 Sunday's opening includes the annual Maple Leaf Parade of Costumes.
From our earlier post: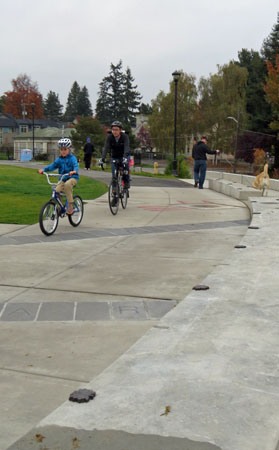 "The Parade will end in Maple Leaf Park, just in time for the Opening Celebration of the upper part of the Park (which officially starts at 2:30 and runs to 4:30).
"The Opening Festivities will include a performance by Counterbalance Barbershop quartet, ribbon cutting ceremony, light refreshments, and family activities. We look forward to seeing you there!
"We could use a few volunteers to help with crossing Roosevelt and do some 'front running' to inform participating businesses the parade is approaching their location and giving them a chance to get outside to hand out treats. Email donna.hartmann-miller@mapleleafcommunity.org with questions, comments, or to volunteer!"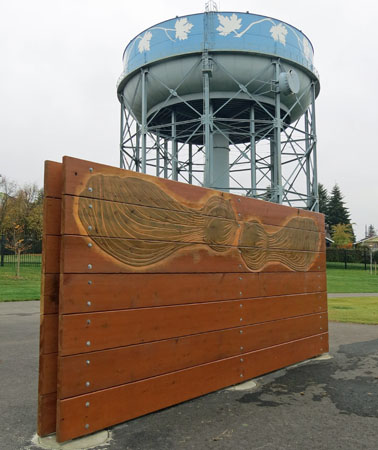 Here's more background from Friends for a Greater Maple Leaf Park:
Seattle Public Utilities is in the process of replacing its open reservoirs with underground structures to improve the quality and security of Seattle's water supply. That replacement also provides space on which a park can be built. The Maple Leaf Reservoir Park Development Project transforms the reservoir lid's 16 acres of open space into a neighborhood park for northeast Seattle.
Seattle Parks, the Berger Partnership, Friends for a Greater Maple Leaf Park, and the community worked to create a comprehensive plan for the new park, including the existing Maple Leaf Playground. Our new neighborhood park includes a variety of walking paths, a series of rain gardens, a shelter, a gathering plaza, and a viewpoint that highlights Mount Rainier and Lake Washington. The park's sport court area includes a pickle ball court, a hitting wall, and basketball hoops. There are two staircases connect the upper and lower levels of the park, one directly adjacent to the restrooms. The lower level includes a play area and two ballfields (although this area is expected to be ready for use spring 2014). There is also a new crosswalk at 83rd and Roosevelt, leading directly to the playground entry area).
The Parks and Green Spaces Levy assigned $5 million to plan, design, and construct Maple Leaf Reservoir Park. Confluent Boulders was commissioned with Parks and Green Spaces Levy and Seattle Public Utilities 1% for Art funds. The picnic shelter in the playground area was funded through the Parks and Street Fund.

View from the park at dusk Saturday.
PS: Polo emails this question. (We don't know the answer, but bet somebody from the city would at tomorrow's 2:30 opening.)
"Do you happen to know how I can find out the distance around the Park on the cement pathway? Thanks for your time and keeping a finger on the pulse of what I consider to be one of the most wonderful niches in Seattle! Cheers."