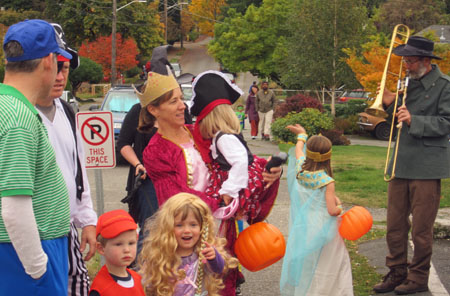 The annual Maple Leaf Parade of Costumes, held Sunday, Oct. 27th, will end with the OPENING OF OUR NEW PARK!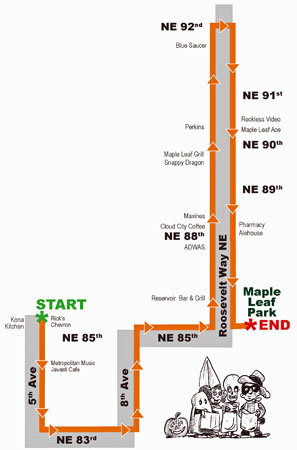 It starts at  1 p.m. at Rick's Chevron, Fifth Avenue Northeast and Northeast 85th Street. The full route will take a little over an hour to walk.
As in previous years, bring a non-perishable item for local food banks.
From the Maple Leaf Community Council:
"The Parade will end in Maple Leaf Park, just in time for the Opening Celebration of the upper part of the Park (which officially starts at 2:30 and runs to 4:30).
"The Opening Festivities will include a performance by Counterbalance Barbershop quartet, ribbon cutting ceremony, light refreshments, and family activities. We look forward to seeing you there!
"We could use a few volunteers to help with crossing Roosevelt and do some 'front running' to inform participating businesses the parade is approaching their location and giving them a chance to get outside to hand out treats. Email donna.hartmann-miller@mapleleafcommunity.org with questions, comments, or to volunteer!"
In addition, there are several other festivals planned for the neighborhood.
Saturday, Oct. 26th:
Olympic View Elementary holds its Fall Carnival from 2:00 to 6:00 pm. It will include games, crafts and food. Tickets are available for purchase at the door.  504 N.E. 95th St.
Northgate Mall has announced this year's Halloween events.  The first event on Oct. 26th invites children and their families to enjoy some festive-themed activities for an afternoon of fun and a jump-start on the candy (1-3 p.m. in Ben Bridge Court). Then, come back in for some Halloween-day indoor trick-or-treating on Oct. 31st (4-8 p.m. in Ben Bridge Court).
Thursday, Oct. 31:
Northgate Mall: Halloween-day indoor trick-or-treating on Oct. 31st (4-8 p.m. in Ben Bridge Court).