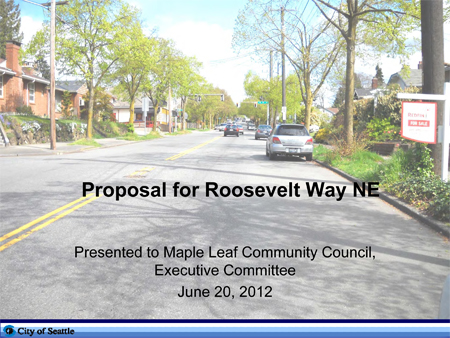 Presentation from Seattle Department of Transportation including comments from the Maple Leaf Community Council Executive Board.
At a meeting two years ago to introduce a plan to add a bike lane through Maple Leaf on Roosevelt Way Northeast, many neighbors in the south end spoke up when they learned that they would lose parking on the west side of the street from Northeast 75th to 85th streets.
Although the Seattle Department of Transportation promptly restriped most of our stretch of Roosevelt with a bike lane, the agency left 75th to 85th bike lane-free in favor of studying other options.
SDOT has since revealed its verdict, and to the typical neighbor, it might appear quite the same. Once again, parking on the west side of the street will be eliminated from Northeast 75th to 85th streets, making room for a bike lane on the east side of the street, as well as providing room for buses to pull out of traffic at more of their stops.
However, the Maple Leaf Community Council Executive Board points out that the new proposal is actually quite different in that it improves rather than impedes traffic flow on that stretch. In this pdf, the council shares its comments along with the proposal SDOT presented last month, including this breakdown of their understanding of the proposal:
5 parking spaces removed east side of Roosevelt Way NE just north of the signal at NE 75th.
5 parking spaces removed on east side of Roosevelt to the south of intersection at 80th
3 parking spaces removed on the east side of Roosevelt to the north of intersection at 80th.
All parking removed west side of Roosevelt from 75th to 85th.
Reducing three in-lane bus stops to only one.
Retains turning lanes so no worsening of 75th/80th intersections
8-foot wide parking area at curbs (versus 7-foot standard)
6-foot bike lane width (versus 5-foot standard) on east (uphill, northbound) side, sharrows on the west side
Retained parking enough to handle maximum parking seen during surveys, though on-street availability shifts across
street.
In an email to Maple Leaf neighbors (subscribe here), the executive board further elaborates:
According to SDOT's data, there are enough parking spaces left to handle even the peak parking they saw during their multi-seasonal surveys. However, that parking may be located across the street from where homeowners and their guests are used to parking.

Under the new proposal, traffic flow in the area will not be diminished according to SDOT. In fact, there may be improvements because some of the parking that is being removed will allow buses to pull to the curb instead of stopping in traffic. This will reduce the current three in-lane stops to just one.

In response to comments received both from Maple Leafers and others across the city, the parking "lane" and the bike lane will both be one foot wider in this area than seen throughout the rest of the city.
But if you still don't like the plan, you've got time to speak up. SDOT will present its proposal next month at an open house, and representatives also will available to field your questions and take your comments at the Maple Leaf Summer Social, from 6:30-8:30 p.m. July 25 at the Maple Leaf Park Playground. You can also email comments to Brian.Dougherty@Seattle.gov and MLCC@MapleLeafCommunity.org.