It's not only personal property that is under attack in Maple Leaf. On Dec. 15, the Beaver Pond Natural Area (formerly Thornton Creek Park No. 6) east of Northgate Mall was vandalized, according to Ruth Williams, vice president of the Thornton Creek Alliance, whose news tip made the KCPQ-13 News.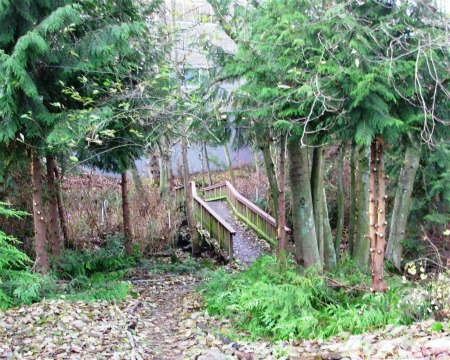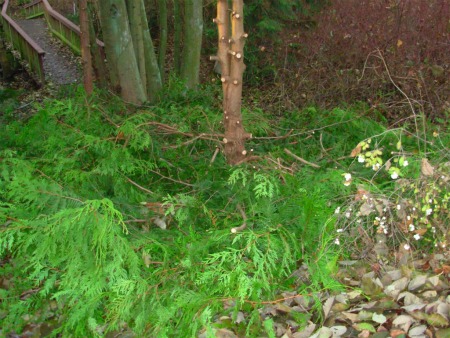 Williams says that branches were illegally removed from 47 trees and saplings  in the corridor just behind Pacific Medical Center, at 10416 Fifth Ave. N.E., at a height of 10 feet. The branches were left where they fell, often on top of plantings, which likely were either planted or have been maintained by the team of volunteers that cares for the natural area. From the news tip:
Here is a clash between urban forest restoration and neighborhood security gone awry, a devastating loss for the Thornton Creek restoration community. … For about two decades volunteers have been at work restoring this site as a functioning urban forest/park.  They have spent hundreds of hours  of their 'free time' weeding out invasive plants and replacing them with native plants and trees.  Students from Seattle and all over the world have worked in this park.  Their work was being rewarded as the area became beautiful and wildlife returned.  Volunteers have applied for and spent grant money from the City of Seattle here.  In fact, right now Seattle Parks is in the beginning phases of a $500K improvement project.

Unbeknownst to the volunteers, the neighborhood on the east side of the park has been suffering from a wave of petty crime over the past few years.  Some of these neighbors knew the volunteers, but never mentioned this problem to them.  Did they report these crimes to the police?  We haven't been able to find out.  But one man was frustrated enough to take things into his own hands and destroy about 10 years' worth of work, probably without making his neighborhood much safer at all.

Seattle Parks has filed a police report.  Parks will be working with the volunteers to repair the site as much as possible, being careful of the sightlines of course.  Most of the cut trees are conifers, and they never grow back where branches have been cut away.  Everyone in the forest restoration community is upset by this loss.