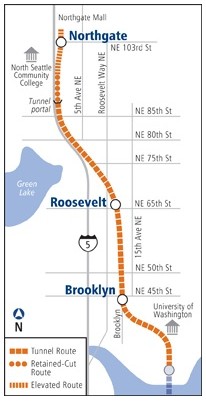 The North Link light rain line might pop out of the ground further north into Maple Leaf, Sound Transit has announced.
The portal, which will bring light rail above ground to the Northgate station, was originally scheduled to emerge along Interstate 5 near Northeast 85th Street.
Now it might stay underground from the University of Washington until about Northeast 94th Street.
Sound Transit has a list of reasons this might be a better idea. But it also means a tunnel under more of the neighborhood. It's recently been reported that the tunnel work can impact the homes above.
The new idea, according to Sound Transit:
Avoids utilities conflicts near Northeast 85th Street
Avoids impacts to the Northeast 92nd Street bridge across I-5
Has fewer impacts to 1st Avenue Northeast
Is a more efficient construction site
Is expected to be similar in cost to the Northeast 85th Street option
See our tunnel portal fact sheet to learn more.
There is a meeting on the Northgate station on Dec. 8 at Thornton Place.