If you're looking for expert gardening tips but have no idea where to start, look no further than the Seattle Seedling blog from Maple Leaf neighbor Stacy Brewer.
Photo of Maple Leaf resident Stacy Brewer in her 4,000-square-foot garden courtesy Jenn Ireland Photography.
Brewer, who has lived in her Maple Leaf home for nine years, is an organic gardener who not only grows berries and myriad vegetables on her 4,000-square-foot lot, but also has a chicken coop that starred in this year's Chicken Coop & Urban Farm Tour, landing her a writeup in The Seattle Weekly's "6 Coolest Chicken Coops" article.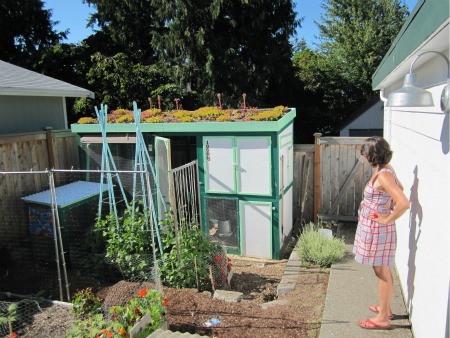 "I'm trying to use whatever space I can to add more every year," Brewer tells us.
She considers her blog similar to a journal where she shares her successes as well as her lessons, with much of it culminating in the recent post "Ask a Gardener: Sure-fire Vegetables for Beginners," which offers tips to help the Western Washington vegetable gardener plant a plot that actually will thrive in our environment. She writes:
I want you to be successful because I know from experience, the more things grow and the more fresh vegetables you taste from your own garden, the more excited you will be about growing your own food.
Brewer recommends greens such as lettuce and kale, peas, radishes and zucchini, as opposed to the tomatoes that are so popular among Northwest gardeners despite the fact they're "one of the most challenging vegetables you can grow this side of the Cascades," she says. And she knows all of this because she's actually a relative newbie to gardening herself.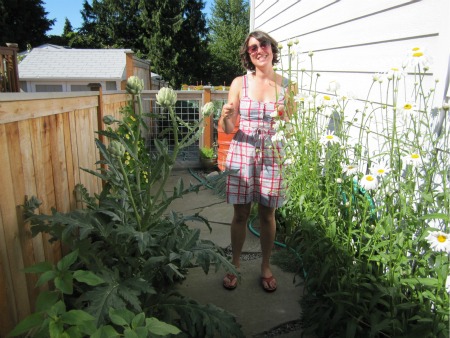 Brewer started the blog just two-and-a-half years ago after reading the book "Animal, Vegetable, Miracle," by Barbara Kingsolver, to share her own own journey from just dabbling in gardening into learning how to live sustainably in Maple Leaf. "That book changed my life," Brewer says.
Since then, Brewer has started training to become a Master Gardener and is in her second and final year of an internship with the volunteer program.
And although she admits she has more time on her hands than many learning gardeners because of her chosen trade as a elementary schoolteacher, that's also where the blog comes in.
Brewer considers herself a "natural teacher," and says Seattle Seedling gives her a chance to take her teaching skills beyond the classroom and into the blogosphere. "It's a way to share what I'm learning with other people."
In addition to responding to comments on her blog, she's also gotten emails from readers asking for help with their own gardens. "I feel totally flattered when somebody asks me for help," she says.
When she's not teaching or gardening, Brewer also is a mosaic artist, who spent an entire month creating the below mosaic in her back yard.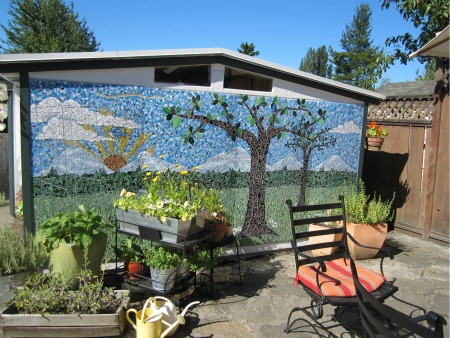 She also sells these mosaics on Etsy at piecedtogethermosaic. "It's what I do in the winter when I can't garden," Brewer says.
And just because the summer days are already starting to wane, Brewer has plenty more tips to come about autumn and spring crops to plant now. Keep an eye on her blog at seattleseedling.com, her Facebook page or her YouTube page.