The Seattle mayor's office has released a recap of the conversation Mayor Mike McGinn had at Aljoya Thornton Place last Saturday.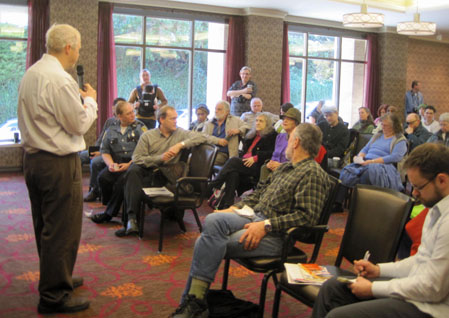 We earlier wrote about the mayor's visit here and about his remarks on Alaskan Viaduct tunnel  here.
In a note to residents who listed their email address on the meeting's sign-up sheets, McGinn today wrote: "I'll be getting back to you in the next couple of weeks with answers to the questions about casual laborers at 117th & Aurora, school lunch program cutbacks, a status update on the North Aurora Plan, and whether or not daycare providers are required to wrap cloth diapers in plastic."
Those were all questions the mayor promised to follow up during the meeting. More of the Q & A can be found here (pdf).
As a sample:
Speaker: I support the tunnel position [referring to Speaker #8]. As for trees, we are not planting enough evergreens. I suggest that the city plant evergreens. What incentives do we have for neighbors to plant new trees?
Mayor: In my budget process I discovered that the City has four different programs for planting trees. We hand out many trees for different purposes.

I asked if we can have just one tree program. It turns out that it wouldn't necessarily save money to have one program, but it may make for a better program.
It is still being worked out as to how restrictive will we be towards property owners who have trees on their property and want to take them down. It will be a hot button issue. It may be a lot different than what we have now.
The street tree issue is very challenging. We have a list of approved trees and they are not big evergreens.
We have the Green Seattle Partnership that does much work to clear invasive plants.
I am very nervous about what the State and Federal governments will do which will make us revisit our budget.