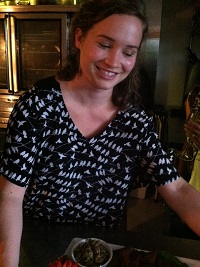 After two years in the kitchen at The Wandering Cafe, 7533 Lake City Way, chef Lindsey Hubbard, shown at left, is taking over as departing owner Kristine Pottle migrates back to her hometown of Buffalo, N.Y.
They honored the occasion with an open house Tuesday night that more than 60 people attended, featuring plenty of nibbles and libations.
Pottle, shown below at left, will remain the main contact during the transition, and both she and Hubbard assured us that there will be more parties to come, such as last summer's Paella Night.
To keep up with upcoming events at The Wandering Cafe, sign up for the email list on the website.