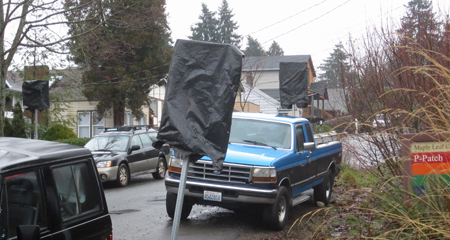 Maple Leaf's street vigilantes – or somebody – appear to have struck again.
This photo shows the "do not enter" signs on Northeast 103rd Street just outside the Maple Leaf Community Garden P-Patch.
Dana emailed earlier this morning: "Given your coverage of the non-SDOT 'do not enter' sign on 105th,thought you'd like to know that someone has put black garbage bags over all of the 'dead end' and 'do not enter' signs on 103rd. Doubt this was SDOT, either."
The covered "dead end" sign is at 103rd and Fifth Avenue Northeast. The "do not enter" signs face west  midway between Fifth and Eighth. They are routinely ignored by drivers.
"What a little war we're having," DW commented on our earlier post on the apparently citizen-assisted "do not enter" sign on nearby Northeast 105th Street at Eighth Avenue Northeast.
The remains of that sign, which the Seattle Department of Transportation says it did not install, are shown below.