Just before 5 p.m. today a motorcyclist flipped his bike at Northeast 105th Street. The responding emergency vehicles temporarily closed the street.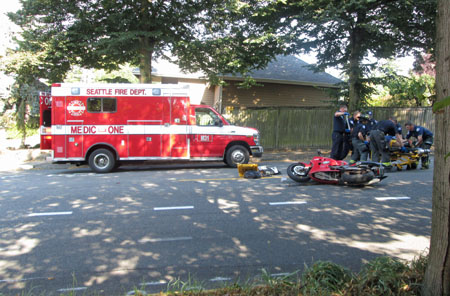 At about 5:15 p.m. Holly emailed:
Roosevelt Way Northeast is currently blocked off right now due to a recent accident in front of my house. A single motorcyclist apparently flipped his red motorcycle. A bystander said it looked like his breaks locked on him although this is unverified. It looks like no other cars were involved, thankfully! Police, fire dept and medics were all on scene. He seemed to be okay as the medics were not in any rush to take him away in the ambulance.