Classical music might not have been the genre of choice in the Maple Leaf home that 22-year-old Jesse Smith grew up in. But when he was just 4 years old, the popularity of the award-winning 1984 movie "Amadeus," based on the life of Wofgang Amadeus Mozart, exposed Smith to just enough classical music to turn him into a prodigy of his own.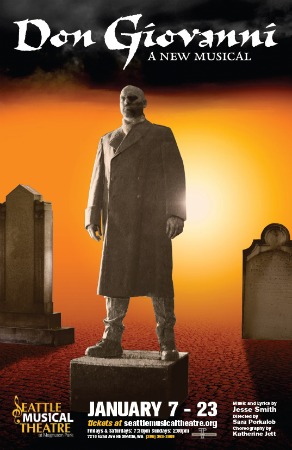 "My mom would always play the 'Amadeus' soundtrack in the car," Smith said. "As a kid I really liked it, the 'Don Giovanni' finale.
"I kinda got obsessed with it, and the obsession didn't really go away."
Instead of going away, he embraced that obsession and is sharing it with the public as Seattle Musical Theatre's first original work in its 33-year history, "Don Giovanni: A New Musical," Smith's re-envisioned classic tale of love, murder and  revenge.
Like the original 1787 opera "Don Giovanni" by Mozart, Smith's version also takes place in Spain and follows the same storyline, from the romance and the comedy to the supernatural elements and the thrill. But the music … well, let's just say that Smith first got into making music by creating hip-hop beats and rap, and he's given the score a bit more contemporary take.
"It's all original music," Smith said, "with the exception of the finale, which I interpreted from Mozart's score."
To better reflect current times, Smith also transported the set to the economic decline of the 1920s, when people in Spain were "living in excess at a time of decline," he said. [Read more →]