The Green Skunk, a marijuana dispensary formerly located in Pinehurst at 11231 Roosevelt Way N.E., has moved south into the space vacated by Maple Leaf Massage (now joined by Thrive Physical Therapy) at 9414 Roosevelt Way N.E.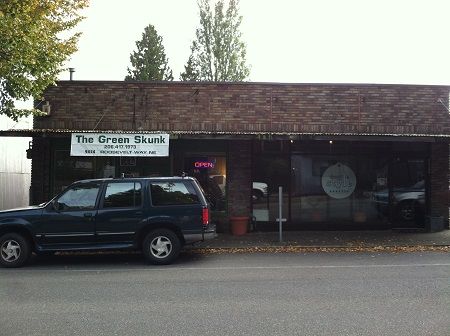 We've received a few emails from neighbors wondering if its location just blocks from Olympic View Elementary and The Perkins School violates any laws. Indeed, according to the pot shops map we linked to last month, the Maple Leaf stretch of Roosevelt is not included in the proposed areas where dispensaries will be allowed.
However, under the new proposal to judge distance by "common path" rather than as the crow flies, which is how the rule is enforced federally, The Green Skunk appears to be legit. They might get hassled by the federal government because they're a few feet shy of 1,000 feet from Olympic View as the crow flies, but perhaps that's a risk they're willing to take. (Or maybe they have a more accurate way of calculating distance than Google Maps!)
While we're on the subject of marijuana dispensaries, we should point out that Delta 9 and MMJ Coop on Lake City Way both have relocated. According to its website, Delta 9 now is located in Sodo at 1950 First Ave. S., while a sign on MMJ says the co-op has moved a half-mile north to 10728 Lake City Way N.E.
Meanwhile, Lake City Conscious Care Cooperative has moved in across the street from MMJ at 8288 Lake City Way N.E.