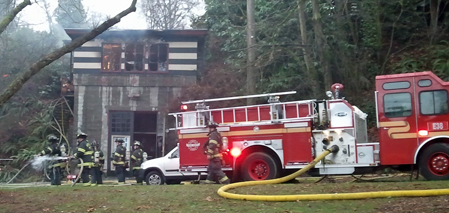 One firefighter hoses off another after the fire, which closed Ravenna Boulevard in both directions from 17th Avenue Northeast to 20th Avenue Northeast.
Editor's note: This fire, at 1857 Northeast Ravenna Blvd., was visible from much of north Seattle after it was reported at 12:47 p.m.  Our PhinneyWood.com crew spotted the smoke from Phinney Ridge. Dale Steinke filed the notes below.
Notes from the fire scene – we became aware of it when we saw smoke from Phinney Ridge near Woodland Park Zoo. We  could smell it once we got to the Roosevelt neighborhood.
The fire brought out dozens of neighbors, who lined the sidewalk on the north side of Ravenna Boulevard, across the street from the fire.
The two-story building has a residence on the second floor and a business on the street-level first floor. An Internet search of the address lists Architecture Inside Out as being located at that address.
According to a fire official, no residents or firefighters were injured.
More details and photos are on the Ravenna Blog.