After more than 70 years in a converted residential home on Lake City Way, North Seattle Veterinary Clinic has changed locations to 11032 Eighth Ave. N.E. and plans an open house from 1-4 p.m. April 7.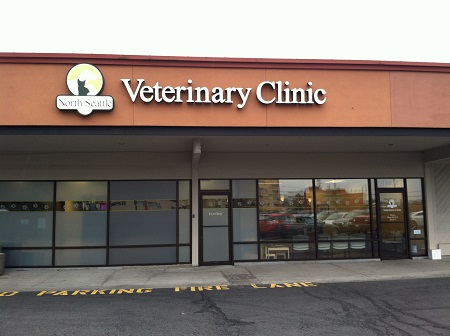 Located in the former 24 Hour Fitness, the new vet clinic is on the upper level of the Northgate Village shopping center between the U.S. Postal Service and Hot Yoga Inc.
At 4,100 square feet, the clinic is nearly twice the size and a more convenient space than their previous location, which "became a bit of a maze"  after years of additions, said Practice Manager Natalie Ervin.
"We designed the new space for ourselves to give us the best use of space," she said. "In a converted house, you're limited by what you can do."
Although it's located right across the street from Maple Leaf in Pinehurst, Ervin said the clinic already has a number of clients from Maple Leaf, and hopes to grow even more into its new space. [Read more →]