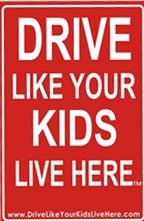 Anni emails:
I've lived in Maple Leaf for 12 years and live very close to the lower baseball fields on Brooklyn Avenue Northeast between Northeast 80th & 82nd streets. I have three young kids and our street is full of kids like most of the streets in the neighborhood.

I am very concerned about the speeding and overall lack of awareness from drivers that I'm seeing on our neighborhood streets.
She goes on to ask: "I'm curious to know whether anyone else has expressed this concern and if the Maple Leaf Community Council has or is planning to address it?"
And she wondered about purchasing signs, like the one above. (We'll paste her entire email below.)
We get few tips or inquiries directly about pedestrian safety; the issue gets raised more in comments on other posts. Examples are here and here.
But the last person who directly emailed about pedestrians would agree with Anni. "Richard" wrote (in late February):
I am writing to beg my Maple Leaf neighbors to pay attention to pedestrians while driving. I run in the neighborhood several times a week and don't think any reasonable person would believe I should be taking my life into my own hands running on the sidewalks of my neighborhood for less than three miles.

Most times the drivers are apologetic and polite when they realize how close they've come to hitting a pedestrian. But I'm still surprised by the number of times that drivers have blamed me in one way or another for being a pedestrian either entering or crossing the intersection they've pulled through.
He later added, of a specific incident: " His immediate reaction was to get out of his car and start yelling and then drove alongside me for almost an entire block yelling out of his window for me to wear some lights. I think they're startled to realize that they've almost hit someone."
The failure of drivers to stop for pedestrians at crosswalks irritates many residents, some of whom (Donna!) will count the number dozens of cars that whiz by while waiting to cross Roosevelt Way Northeast at the hardware store.
Certainly many Maple Leaf streets are … graced … with those green turtle statues warning of children at play. And the politics of getting marked crosswalks installed are complicated. (Be aware that the city considers all intersections to be crosswalks, marked or not.)
The Maple Leaf Community Council has been a long-time advocate for safer streets, sidewalks and crosswalks, and will likely weigh in on its current activities. (During the council's May membership drive, it posted activity updates on its Facebook page.)
We've also heard from local businesses, like the Blue Saucer and the late, lamented Maple Leaf Grill, about pedestrian issues.
Here's Anni's entire email: