June 21st, 2015 by Mike
→ No CommentsTags: birds, Maple Leaf Reservoir Park, Osprey
May 9th, 2014 by Mike
Just Thursday we were (again) wishing for an Osprey – and shortly after 4 p.m. today it arrived.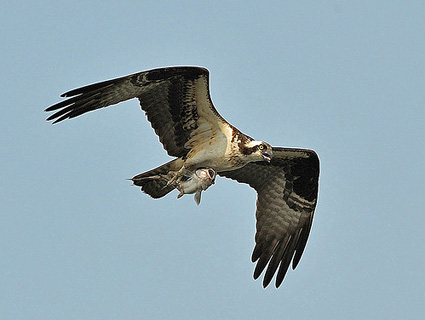 Ospreys (fish hawks) are not uncommon visitors to Maple Leaf in the spring and summer.
They have many times been seen perched on the Comcast tower on Roosevelt Way Northeast, eating fish taken from Lake Union. See Dale's comment on Thursday's sharpie post.
From the Cornell Lab of Ornithology:
Unique among North American raptors for its diet of live fish and ability to dive into water to catch them, Ospreys are common sights soaring over shorelines, patrolling waterways, and standing on their huge stick nests, white heads gleaming. These large, rangy hawks do well around humans and have rebounded in numbers following the ban on the pesticide DDT. Hunting Ospreys are a picture of concentration, diving with feet outstretched and yellow eyes sighting straight along their talons.
Nearby, there' s a large concentration of nesting Ospreys every year at Everett's American Legion Memorial Park, where they nest largely on pilings in Port Gardner Bay.
To get an idea of what that looks like, here's an Osprey cam from  Montana, also from Cornell (as is the photo, above).
And that makes 32 species in our park bird list. Today's park Osprey was over the northeast corner. About 15 minutes later two Ospreys were heard overhead a bit further north.
→ 7 CommentsTags: bird list, Maple Leaf Reservoir Park, Osprey