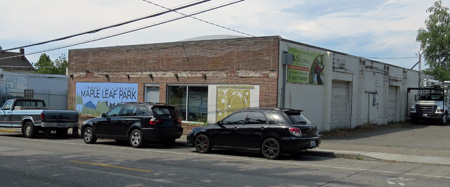 Sharon emailed last week: "Probably you have noticed…my husband and I saw a land-use action sign re: the block across from the park (Northeast 86th Street and Roosevelt Way Northeast, I think) last weekend.
"It announced a 20-unit mixed use development."
We hadn't noticed. It's the building/parking lot with the Maple Leaf Park design displayed, which once belonged to the former owner of Maple Leaf Ace Hardware.
It's a great location, and over the years many local businesses have eyed it.
According to the permit application, the proposal for the property at 8521 Roosevelt Way N.E. is for a "4-story mixed use structure containing 20 residential units and 5,000 sq. ft. of retail.
"Parking for 20 vehicles to be provided at grade and ten vehicles within the structure. Existing structure to be demolished."
The new owner is listed as MRN Holmes LLC, at 7556 12th Ave. N.E.
Green Skunk
Mike emailed today:" I noticed this morning as I was pushing my bike with a flat tire on the sidewalk down Roosevelt,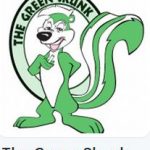 that the location of our neighborhood medical cannabis pharmacy on the 9400 block appears to have cleared out over the weekend."
Indeed. The Green Skunk, which moved to 9414 Roosevelt Way N.E. only last October,  is empty.
There's no information on its web, Facebook or Twitter sites, and its phone has been "temporarily disconnected."
Maple Bar
The new Maple Bar will open Saturday, Aug. 23th.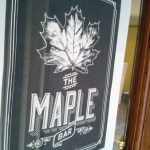 We know because the owners had the table next to us at the Maple Leaf Summer Social, and told us so.
It replaces the departed-but-lamented Maple Leaf Grill at 8929 Roosevelt Way N.E.
Get a first glimpse at its food here.
Bonus business: Setsuna.
It's just north of Maple Leaf, but the Japanese Setsuna Restaurant building, just north of QFC at 11204 Roosevelt Way N.E., is signed "up for sale."