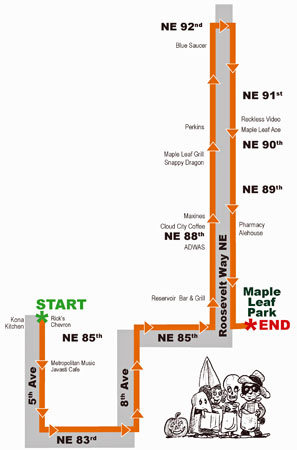 What has become the tremendously successful annual Maple Leaf Parade of Costumes starts at 3 p.m. Sunday at Rick's Chevron.
The full route will take a little over an hour to walk. Rick's Chevron is at Fifth Avenue Northeast and Northeast 85th Street.
This is the sixth year for the parade. Last year it ended with the ceremonial opening of Maple Leaf Reservoir Park – yes, our new park is a year old! – and that's where it will end this year, too.
Here's the flyer, if you want to print it out (you'll need to click through twice): parade flier_2014
Big kids, little kids, furry ones too – show off your costume while parading the Maple Leaf neighborhood. Rain or Shine — so dress appropriately and carry an umbrella.
In previous years the parade has drawn well over 100 neighbors (and numerous furry dogs). This year's attendance may be weather dependent (70 50 80 60! percent chance of rain).
From the organizers: