There are plenty of ways to help out this holiday season, but at least one food drive will also help Maple Leaf youngsters understand the importance of giving back.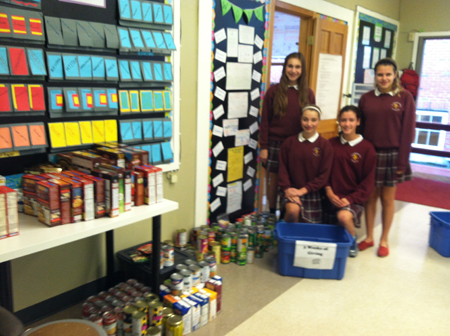 Seventh- and eighth-graders collect food for "Three Weeks of Giving"/Courtesy St. Catherine Parish School
Stephanie Gravenkemper, development director at St. Catherine Parish School, explains the service project the Maple Leaf school's K-8 students are now in the midst of:
Currently we are working on our "Three Weeks of Giving" campaign together with St. Vincent de Paul to help feed the homeless and less fortunate on Thanksgiving.  Each class is assigned an item to bring in and it changes every week, for 3 weeks. (For example 2nd grade is bringing in cream of mushroom soup this week, boxed mashed potatoes next week).  Throughout all grades, we are able to assemble  packages for the less fortunate to create full Thanksgiving dinners and we deliver them.  We also collect toiletries items as well; toothbrushes, toothpaste, lotion, band aids, shampoo, etc to give away at the same time.

We are proud of how we give back to our community!
Want to help out? Just drop your contributions off at the front office of the school of 8524 Eighth Ave. N.E. Gravenkemper adds:
I would love to thank them personally if I am there!  So if they ask for me that would be great!