Even though the Maple Leaf Reservoir is slated to be completely covered by mid-2012, Donna Hartmann-Miller, who heads the Friends for a Greater Maple Leaf Park committee, told more than 50 people at last night's Maple Leaf General Community Meeting that the park that will be built on top of the reservoir likely won't be ready to use until sometime in 2013.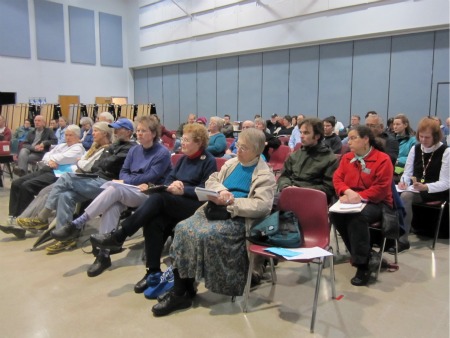 And although that adds one more year of waiting to use the space adjacent to the current Maple Leaf Playground at 1020 N.E. 82nd St., that also gives the park committee another year to raise funds, which was one of the overarching topics of the Wednesday meeting at Olympic View Elementary, 1020 N.E. 82nd St. (Whose plant sale is this weekend, by the way! Post to follow.)
Although a $5 million levy is expected to cover the cost to put the lid on the reservoir and pay for much of the design for Maple Leaf Reservoir Park, the committee is raising money to pay for a few unfunded details, including a picnic shelter in the Family Terrace, which will be located at the site of the current Maple Leaf Playground; completion of a walkway around the perimeter of the park; trees; and furnishings.
Hartmann-Miller noted that there will be many ways to help out as fundraising gets under way, including donating either your money or time, and shopping locally after she gets more community businesses on board with a plan to donate a portion of their proceeds to the park (stay tuned for details in the coming months).
Your participation also is in need with such issues as the Family Terrace, for which community resident Scott Bishop is pursuing a $100,000 Neighborhood Matching Fund.
"We've raised $75,000 so far from community members, and 200 volunteer hours," Bishop said. "That combination puts us over the $100,000 community match. If we are the recipient ultimately … we'll be able to make that Family Terrace come to life."
Bishop is looking for ideas from the community to both upgrade the current Maple Leaf Playground and to include more options for children's play, and is inviting those with ideas to attend a Family Terrace Design Meeting from 6-8 p.m. June 1, also at Olympic View Elementary.
"There is more than one way to play," Bishop said. "This is an opportunity to expand this area for other ways to play." [Read more →]