August 1st, 2017 by Mike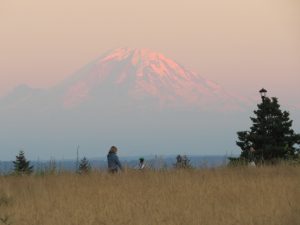 Go meet your neighbors!
July 30th, 2017 by Mike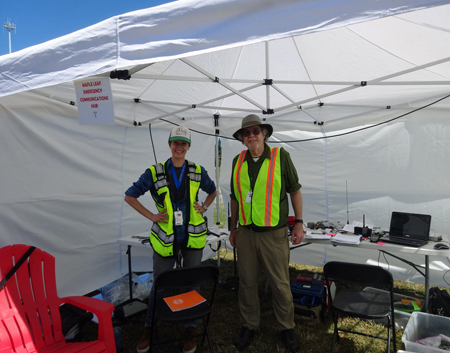 Early report from John Parnell, K7HV (photos courtesy John):
"Our Hub did great: We were able to decode all the digital updates from the city Emergency Operations Center and respond to queries via the north sector base at North Seattle Community College and our sibling Hub at Victory Heights Park.
"We (Jenn Parker (WA7JEN) and Dean Lambert (N7DLX) had a steady flow of curious passers-by at our information table, so we were able to gather quite a few names of folks interested in participating at the community Hub level."
For more information see previous posts.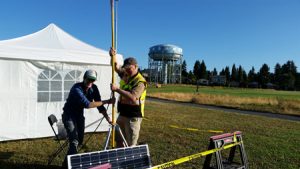 July 28th, 2017 by Mike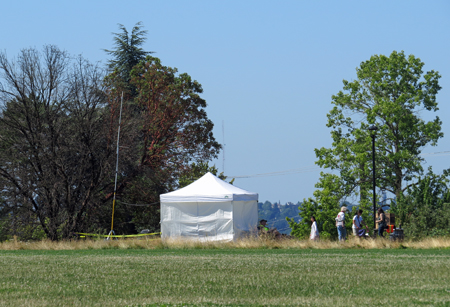 The emergency hub at the park this morning.
Expect a flurry of activity in Maple Leaf Reservoir Park Saturday from 9 a.m. to noon, as radio operators and emergency responders hold a drill in anticipation of The Big One.
This time it will be a continuation of the Cascadia Rising Subduction Zone earthquake, on day six after "the big one."
Here's a story from a previous drill in the park.
And a photo.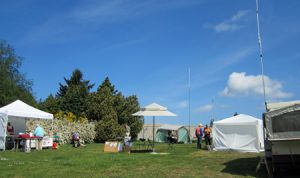 From one of the coordinators:
We will be testing radio equipment that will serve as a backup communication system in the event of a catastrophic event. The scenario for this drill will be day six after a major earthquake that damages communications and transportation infrastructure, think: no cell phones, no bridges and NO 911. Other city's' (Christchurch, New Zealand and Kobe, Japan) experiences have taught us that it could take up to two weeks for aid to appear to affected zones in a large-scale disaster. In the meantime, it will be up to us to share resources and help neighbors in need. Each drill will have a staffed information table with material on the Seattle Emergency Hubs, an all-volunteer, grass roots network organizing at the neighborhood level to create post disaster plans and promote preparedness. We are hoping to expand the small core group of neighbors that have been active in this.
Meanwhile, this from a FB post:
HUGE (50 family) GARAGE SALE – Don't Miss this one!

If you love garage sales – this is a "don't miss" one! My 50-person chorus is holding their annual fundraising garage sale this Friday & Saturday from 8:30 a.m. – 3:30 p.m, at 1221 N.E. 90th St. (Maple Leaf area).

Tons of GOOD stuff – Nintendo & games, Xbox & games, WII, Keurig, Pak 'n Play,4-drawer filing cabinets (both metal and wood), vintage chairs, Duncan Phyfe telephone table, Schwinn jogging stroller, Instep bike trailer, flat screen tv, bar stools, tons of kid toys & games & puzzles, garden stuff, sports equip, guy stuff, classy kitchen stuff, gas grill (including propane tank) and so much more.
July 26th, 2017 by Mike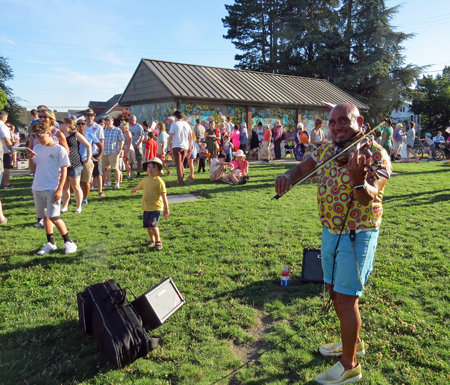 There must be 100 people in line for ice cream right now (7 p.m.) at the Maple Leaf Summer Social.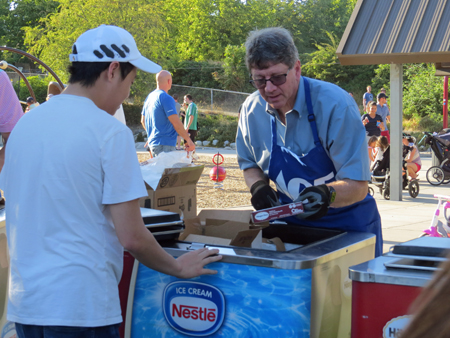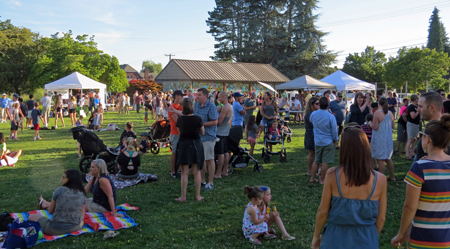 Streams of people are headed to the playground at the Maple Leaf Reservoir Park. Live music,  activities for kids, ICE CREAM (sponsored by Maple Leaf Ace Hardware).
The Social will run until 8:30 p.m.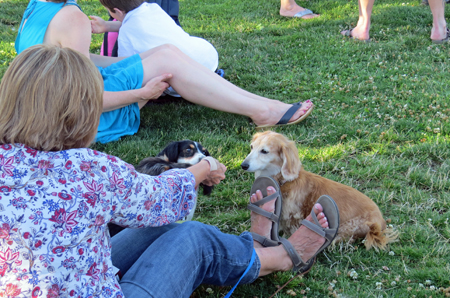 For more, see our previous post.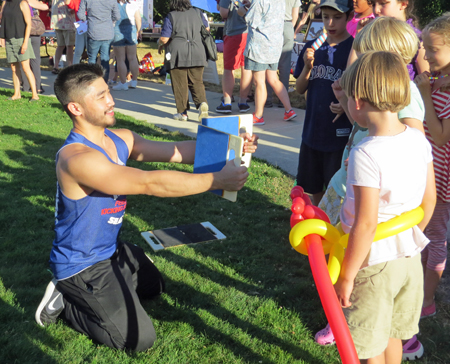 Here are photos from a previous social.
July 22nd, 2017 by Mike

The revived Maple Leaf Community Council emails:
The 22nd annual Maple Leaf Summer Social is scheduled for Wednesday, July 26th, at Maple Leaf Reservoir Park Family Terrace (Playground) from 6:30 – 8:30 p.m. There will be live music, fun activities for kids, information booths for the neighborhood, and free ice cream bars sponsored by Maple Leaf Ace Hardware.

Please feel free to stop by the tables hosted by members of the Maple Leaf Community Council (MLCC) to say hello! The MLCC will have informational posters and would appreciate feedback from our neighbors on issues that people would like to engage in and learn more about.

Come meet your neighbors, enjoy some free ice cream and activities for your community!

Sincerely,
Maple Leaf Community Council Board Members
Jason, Kile, Eric, Sarah, Evan, and Bryan
Also, news about the former Coa Mexican Eatery & Tequileria at Roosevelt Way Northeast and Northeast 80th Street.
Crews are hard at work on it now, siting an outside place to put the barbecue smoker – 20-feet of it, we're told.
Also that it will be Texas-style BBQ. (We're from Texas….)
Opening date set for late August.
​
July 11th, 2017 by Mike
Tashana (and others) emails:
Maple Leaf is having its first annual neighborhood garage sale. Look for

directional signs indicating streets with participating households from
major arteries running through and bordering Maple Leaf (Fifth Avenue Northeast,
Roosevelt Way Northeast, Northeast 80th Street, Northeast 75th Street, 15th Avenue Northeast, Lake City
Way and Northgate Way).

Join in if you live in the area or come by and shop!

Saturday July 15th (Third Saturday in July) from 9 a.m. – -3pm

See attached for a flyer to print out to spread the word. You can also use
it to direct people to your sale by posting it and drawing an arrow along
the bottom pointed in your direction. Also attached a map of the
neighborhood area participating.

This is just a partial list of participating households:

*NE 80th and 5th Ave NE*

*20th Ave NE & NE 95th street (by Sacajawea Elementary*

*88th st between Roosevelt and 12th Ave*

*89th between 2nd and 5th*

*17th between Lake City and 85th*

*815 NE 104th ST*

*89th, between 2nd and 5th*

*94th b/w Roosevelt and 12th*

*91st between 2nd Ave NE and 5th Ave NE*
June 23rd, 2017 by Mike
Amy emails this morning:
Can you please post on the blog that these two dogs were spotted roaming Northeast 96th Street this morning at 8:10 a.m. between 15th Avenue Northeast & 12th Avenue Northeast, heading west?

No collar on small dog; red collar on larger dog but no tag.

Friendly & approached for pets when called by female in a chipper voice. Little dog is a talker; big dog looks hungry/skinny & has some fur missing from back side.

Hope they have a home.
June 12th, 2017 by Mike
UPDATE:
AGENDA
• Welcome and MLCC Update
• Executive Board Elections
• Seattle Night Out and Picnic – Mary Amberg, Seattle Police Department
• Northgate Station – Ellen Blair, Sound Transit
• Northgate Transit Oriented Development – Gary Prince, King County Metro
• Northgate Pedestrian/Bike Bridge Project – Natalie Graves, Seattle Department of Transportation
The spring general meeting of the revamped Maple Leaf Community Council is this Wednesday night, 7:30-9 p.m. at Olympic View Elementary School.
As usual, free licensed child care will be provided at the school, 504 N.E. 95th St.
The agenda includes elections, announcements and updates. Our previous posts, most recently, are here and here.
Separately, it's now possible to vote online for your favorite project in your council district.
For example, traffic improvements at Hazel Wolf School (just north of Maple Leaf) is one project.
Most of Maple Leaf is in council District 5. Here's a direct link to that voting site.
Welcome to the ballot for Your Voice, Your Choice: Parks and Streets for Seattle's District 5, courtesy of the Stanford Crowdsourced Democracy Team. You are about to decide how to spend $2 million of Seattle's City budget ($285,000 per City Council district).
Voting stops at month's end.
June 6th, 2017 by Mike
A day to remember.
(In the MSM, if you don't remember it, phone would ring off the wall. If phones still ring.)
Also, Dec. 7th.
May 25th, 2017 by Mike
---