Entries from October 2014
October 15th, 2014 by Mike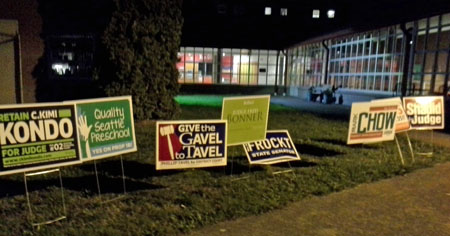 Tonight's Candidates & Issues forum is live now at Olympic View Elementary.
Around a half-hundred neighbors, candidates and issue advocates are present.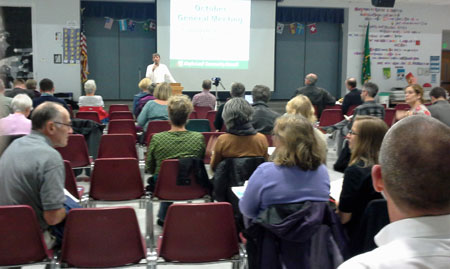 Comments Off on Candidates and campaigns forum is live tonightTags: election forum, maple leaf community council
October 15th, 2014 by Mike
Some news nuggets while we fight with our highly annoying comment issue:
Tonight's candidates and issues forum starts at 7 p.m. at Olympic View Elementary School. The Maple Leaf Community Council is providing free licensed child care.
Skipper the cat is missing from nearby Ravenna, and Robin wants to know if he's been spotted.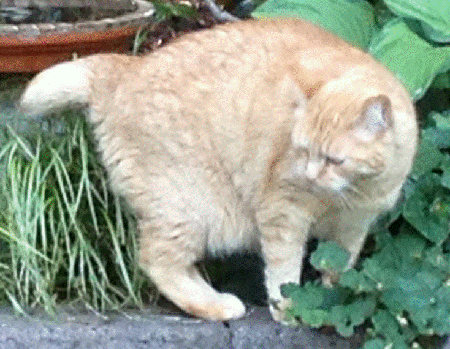 "Lost domestic short-hair orange male tabby with very short tail. Skipper went missing on Oct. 10th, he has a hangy-belly and is very friendly and will follow the hand that feeds him. We miss him very much and hope to find him again. If you have seen Skipper please contact Robin Stacy at 206-372-4118. "
Skipper lives at Second Avenue Northeast and Northeast 68th Street.
Kiddie Parade of Costumes this year will be held on Sunday, Oct. 26th, at 3 p.m. Details TK and to be posted here. For last year's photos (and the official opening of Maple Leaf Reservoir Park) go here.
Native Plant Sale at the Perkins School, 9005 Roosevelt Way N.E.,will be held this Saturday, Oct. 18th, from 10-4 p.m.
Sidewalks and speed cameras. The current hard-copy issue of the Community Council newsletter, which should have arrived at your home by now, discusses the possibility of sidewalks along 20th Avenue Northeast near Sacajawea Elementary. You can read more there, but note the funding might come from "larger-than-expected revenue from the City of Seattle's school-zone speed cameras." ???
Comments Off on Mid-October news from around Maple LeafTags: candidates and issues, native plant sale, Parade of Costumes, school-zone speed cameras, sidewalks
October 13th, 2014 by Mike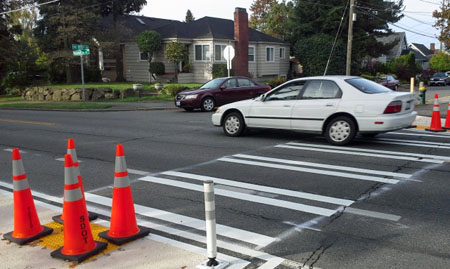 Mike emails:
Seattle DOT completed a new crosswalk at Northeast 85th Street and Roosevelt Way Northeast.

The crosswalk is located at the entrance to the upper section of Maple Leaf Park.

As a Maple Leaf resident, parent, and member of St. Catherine of Siena Parish, I am extremely grateful to Seattle DOT for the installation.
Comments Off on Welcome to the new crosswalk at Roosevelt and N.E. 85thTags: crosswalk, Maple Leaf Reservoir Park, Seattle DOT
October 13th, 2014 by Mike
A long list of politicians and issue advocates are invited to the Candidates & Issues Forum this Wednesday evening.
You're invited, too.
Details are in this quarter's Maple Leaf Community Council newsletter, which should have arrived at your house in the last week. The council sponsors the forum, which runs from 7-9 p.m. at Olympic View Elementary School, 504 N.E. 95th St.
This is a really important meeting for our community. If we have 100 people there, it boosts our credibility when we go to elected officials and ask for their help.
Ballots should begin arriving in the mail on Oct. 17th.
Comments Off on Candidates and issues here on Wednesday nightTags: candidate forum, maple leaf community council, November election
October 11th, 2014 by Mike
Update 6 p.m.: Over a half-inch of rain before stopping. Plus hail.
5:15 p.m.
We just heard the thunder.
The National Weather Service Seattle office posted this four minutes ago:
.NOW…

A BAND OF SHOWERS AND THUNDERSTORMS FROM BAINBRIDGE ISLAND TO

SOUTHERN SNOHOMISH COUNTY WILL MOVE SOUTHEAST AT 20 TO 25 MPH IN

THE NEXT HOUR. EXPECT SMALL HAIL UP TO A QUARTER INCH…BRIEF HEAVY

RAINS AND OCCASIONAL LIGHTNING WITH THESE STORMS.
Earlier today traffic snarled throughout the region as heavy showers swept through, and the area saw its first tornado warning in 17 years.
As Cliff Mass posted earlier:
And this week should be a shock to some. Showers today. Generally dry on Sunday and Monday day. But they the celestial spigots will turn on.
→ 1 CommentTags: Cliff Mass, thunderstorm, tornado, weather
October 8th, 2014 by master
You're invited to join the Seattle Storytellers Guild from 6-7:45 p.m. tomorrow, Oct. 9, at the Northgate Library, 10548 Fifth Ave. N.E. Cynthia Westby and Patty Zeitlin from the guild will kick-off the open-mic night with a brief introduction to the art of storytelling at 6:30 p.m., then let the storytelling commence.
Refreshments starting at 6 p.m. The program begins at 6:30 p.m. Listeners and tellers alike are encouraged to attend!
Westby, the Seattle Storytellers Guild's president, is a storyteller, writer, teacher and coach with a diverse background ideal for creating personal stories. Zeitlin, vice president of the guild, is a songwriter, storyteller, author of two books, a poet and playwright, with many albums of original songs for children, and one for adults.
→ 1 CommentTags: free events, northgate library
October 5th, 2014 by master
Our partners at Wedgewood View report that Portage Bay Cafe is expanding to become a neighbor of the future Roosevelt Station. Does that mean there's hope our nearby Northgate Station also might soon have more appeal among some of Seattle's favorite local chains?
Wedgwood View's hillaryu reports that:
Portage Bay Cafe signed a lease for a 3,400-square-foot space in The Rooster, a 197-unit apartment building being developed at Northeast 65th Street and Roosevelt Way Northeast near Whole Foods Market. The restaurant will seat around 125 and will also include outdoor seating for summer dining.

This is the fourth Portage Bay Café for owners John and Amy Gunnar. This restaurant will continue their mission of offering organic, sustainable foods that are locally sourced whenever possible. Examples include cage-free eggs from Olympia; bacon from the Hill Meat Company and sausages made in-house with Washington's Carlton Farms pork.

"We just really love the Roosevelt area and have been exploring the idea for awhile. We're really proud to be a Seattle business and have been looking for more ways to expand our cafes, but also our presence as a local business that supports Washington farmers and growers and wants to be a part of the neighborhood." says John Gunnar.

Other Portage Bay locations include South Lake Union, Ballard and the U-District.
→ 1 CommentTags: light rail
October 5th, 2014 by master
Ann reports that her roommate's car was stolen Saturday morning from the front of their house on Northeast 90th Street between Fifth and Latona avenues northeast. With help from neighbors, they've narrowed down the time of the crime to between 9 and 9:30 a.m.
She asks that neighbors keep an eye out for the car, which is a 1995 white Honda Accord, license plate #059ZIA. It's been reported to the Seattle Police Department.
Comments Off on Car stolen Saturday morning from 90th between 5th and LatonaTags: stolen cars
October 2nd, 2014 by master
Let your mail theft fears rest easier. According to the Seattle Police Department Blotter, detectives have thwarted a prolific North Seattle crime ring that may have been behind many of our recent reports of mail theft, break-ins and other property crimes:
A stolen car, a wanted woman, and her diary detailing "what I stole today" has led SPD's Major Crimes Task Force to unravel a prolific crime ring, which detectives believe is responsible for hundreds of break-ins, car prowls, thefts and identity fraud in North Seattle.

In all, police arrested four suspects and seized hundreds of pieces of stolen mail, IDs, and boxes of packages, stolen right off of victims' porches, with one of the suspects telling police that unwrapping stolen packages was "like opening Christmas presents." …

Detectives found duffel bags filled with stolen mail, more than 70 IDs, credit cards and passports, $37,000 in fraudulent checks, and mail stolen from at least 180 victims. They also found books and ledgers tracking thefts and tallying sales on online sites, as well as pages and pages of victims' birthdates, social security numbers and credit card numbers. Detectives say the woman had created "profiles," compiling personal information from pieces of stolen mail.
Like most of the posts on the Blotter, it makes for some juicy reading that includes details about the group that had made crime their full-time job, focusing on the U-District and Green Lake. Read the whole post here.
Despite our recent post that the "North Precinct might just be too short-staffed to respond," Coordinated Criminal Investigations Captain Eric Sano has high hopes for the neighborhood, saying in the Blotter post: "These arrests should drastically reduce property crimes" in the North Precinct.
Let's hope he's right!
→ 5 CommentsTags: crime, mail theft, Seattle Police
October 2nd, 2014 by master
Jan emailed us yesterday to try to locate the owner of a neighborhood cat whose remains were found that morning:
I'm sad to report that I just walked by a dead cat on the sidewalk on 15th avenue (west side between 88th and 85th). It's a beautiful grey cat with white legs/paws. I don't know where it lives, but I've seen it in the neighborhood – I'm sure the owners are missing it.
Jan reports that the remains have since been removed.