Update 11 a.m.: Sun!
Update 10 a.m.: Steady, fat snowflakes. No accumulation.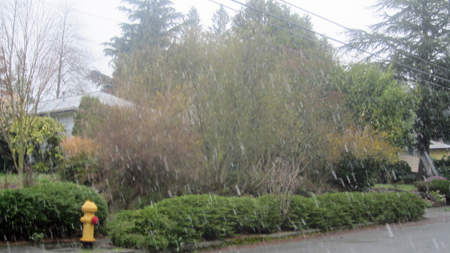 After staying to the north of us all week, pestering the folks from Everett to Shoreline, the Puget Sound Convergence Zone dropped south around 7:40 this morning. No doubt to celebrate the first week of spring.
It's snowing steadily at 8:30 a.m. in Maple Leaf. Nothing's sticking, though.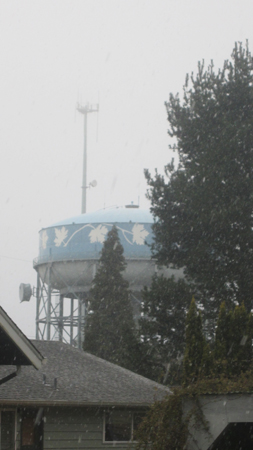 Outside air temperature right at 34 degrees, and the air is still.
Snow also being reported at Wedgwood, Green Lake, Wallingford, Phinney Ridge and Greenwood neighborhoods.
Traffic was snarled to the north earlier this morning, and several main highways were closed during the past 12 hours or so.
From the forecast discussion issued just before 3 a.m.:
THE SNOW LEVEL WILL BE BELOW 1000 FT AGAIN EARLY THIS MORNING
WITH SHOWERS FALLING LOCALLY AS SNOW OVER THE LOWLANDS.
PRECIPITATION AMOUNTS IN THE CONVERGENCE ZONE MIGHT BE UP TO
0.20 INCH TODAY...WHICH WILL RESULT IN LOCAL ACCUMULATIONS OF
AN INCH OF SNOW. THERE WILL LITTLE OR NO ACCUMULATION ELSEWHERE.
Below, Interstate 5 at the Everett Mall earlier this morning: