Lollipops aren't just for kids anymore.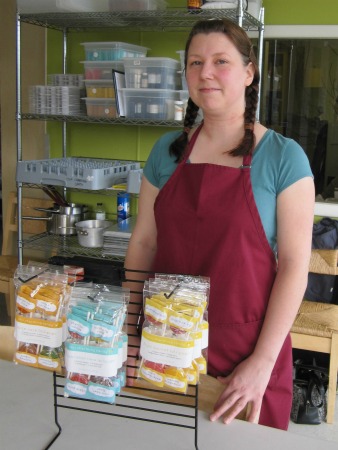 Susan Dziadosz, co-owner of This Charming Candy, is selling her gourmet lollipops from 4-6 p.m. Sundays and from 4-7 p.m. Mondays at The Wandering Cafe, 7533 Lake City Way N.E.
With gourmet flavors like Watermelon Basil, Black Pepper Melon, Vanilla Cardamom and, of course, the always-popular Salted Caramel, Maple Leaf/Roosevelt resident Susan Dziadosz is re-introducing adults to the world of lollipops through her company, This Charming Candy.
Although the company already has an international following after an article last year in Martha Stewart's Real Simple magazine, Dziadosz is hoping to make it easier for her local customers to shop for her Charming Candy by now selling to walk-in customers from 4-6 p.m. Sundays and from 4-7 p.m. Mondays from the kitchen where she makes her goods, The Wandering Cafe, at 7533 Lake City Way N.E. in Maple Leaf.
"It helps me meet the customers and it lets the customers meet the candymaker," Dziadosz said. "It helps us foster that relationship."
She expects most of the local customers who stop by will be picking up orders to save on shipping costs, but This Charming Candy also will have some of its more popular collections for sale for walk-in customers.
"What I'm trying to do here is grow a a pickup business for the Seattle area," Dziadosz said.
As the holiday season approaches, you also can expect to see This Charming Candy at many of the bigger craft sales throughout the area, such as Urban Craft Uprising. In addition, the company could soon be expanding its craft fair sales into Portland and the San Francisco Bay Area, where the company's co-owner, Kate Degelau-Pierce, lives.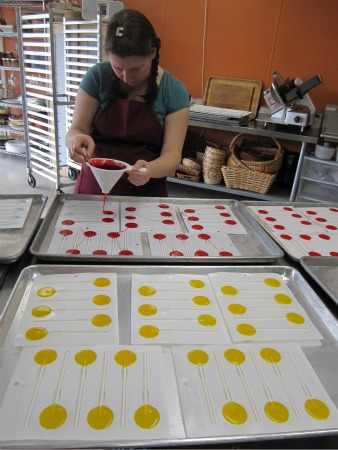 Although Dziadosz is the chef who makes and ships the candy, it might never have happened without the push from Degelau-Pierce. At the time, Dziadosz was working at Microsoft and making lollipops for fun for friends and family across the nation, when Degelau-Pierce proposed the idea of them trying their hand as entrepreneurs.
"She said, 'I belive in your candy and I think it's really good,'" Dziadosz said of her old college friend. "'Let's see if we can take it from being a hobby into being a living.'" [Read more →]