Whether you're in the mood to "sip and socialize" with health care professionals, or just to donate to a worthy cause, you're invited to a fundraiser Wednesday, June 29, hosted by Maple Leaf's NW Pain Relief, which provides acupuncture and massage at 9415 Roosevelt Way N.E.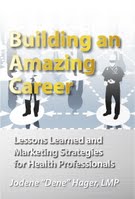 The owners of the company, Misty Nault and Jodene Hager, are hosting the "Health Care Pros Sip & Socialize" through a networking group they started, Health Care Professionals Referral Network. It's also doubling as book release party for Hager's first book, "Building an Amazing Career: Lessons Learned and Marketing Strategies for Health Professionals."
The event is from 6-8 p.m. at Pink Ultra Lounge on the fourth floor of Pacific Place in downtown Seattle, and Nault notes that everyone is invited, not just health care professionals. She tells us:
"Those that are in health care can network and those that are not can come enjoy a cocktail and our speakers."
Speakers include Hager, who will be talking about her book, and motivational speaker Patrick Snow, author of "Creating Your Own Destiny." Tickets cost $10, with proceeds benefiting Massage Therapy Foundation, which works to fund massage research, provide continuing education for massage therapist and community outreach.