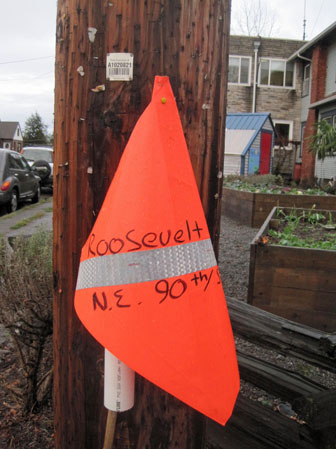 Where, we wonder, do the orange flags come from?
The ones you'll find at many of the crosswalks on Roosevelt Avenue Northeast, including the three new ones that went in mid-December.
The same afternoon the crosswalks were painted, the orange flags appeared.
Do Maple Leaf neighbors buy the materials and donate the pedestrian flags, as we're been repeatedly told?
In the comments on an earlier post, David Miller of the Maple Leaf Community Council wrote:
FYI, the orange flags are provided not by the city but through the individual actions of fellow Maple Leaf residents. They buy these with their own money, so please be watchful if you see anyone forget and carry them down the block.
Peg Nielsen of the city transportation department confirmed: "I just spoke with the pedestrian program  folks and they say that the flags are not ours and must indeed be a community effort…so I guess you'll need to do some more sleuthing!"
But Miller said he doesn't personally know who the flag elves are. Nor do the folks at the Perkins School, who had lobbied for the new crosswalk between the school and Maple Leaf Ace Hardware.
Nor does Billie Bryan at the Blue Saucer, which has another new crosswalk at its corner. "I have no idea who puts them out there -much as I'd love to take the credit…somehow they always get replenished when they all disappear."
Who knows where the orange flags originate?