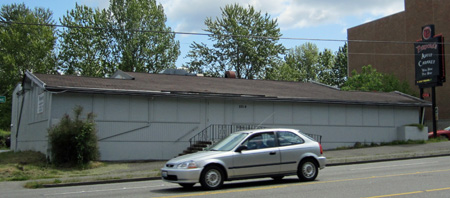 Last May the news here that the venerable Seven Seas Restaurant was turning into a strip club ignited hundreds of comments from readers, many predicting an increase in crime and decease in property values.
The Maple Leaf and Wedgwood community councils  both appealed the opening, saying Pandora's Adult Cabaret had been improperly permitted by the city. The appeals were rejected, and Pandora's opened on July 12 at 8914 Lake City Way N.E., on the line between the two neighborhoods.
Maple Leaf Life wrote at least a dozen posts on the club last year. This year? We've heard nothing. So we thought we'd ask.
We can't speak to property values, but we can about crime. We ran the entire year on the city crime map and found – nothing.
We asked Terrie Johnson, Seattle Police crime prevention coordinator for the North Precinct.
I talked to Community Police Team Officer Kipp Strong and to our Precinct Prosecutor, Jana Jorgensen, and neither one of them have had any complaints about Pandora's. I have worked North Precinct now for 12 months, and I have had no complaints about them either.
At the Wedgwood Community Council (you could argue Pandora's is technically in Wedgwood because it's on the east side of Lake City Way) Per Johnson said: "I haven't heard of any crime or complaints from neighbors. In fact, to his word, the owner emailed me a few months back to see if I've heard anything. So far, they seem to be a good neighbor."
When we asked the owner, Joe Walker, he replied in part: "If there are legitimate concerns I would be more than happy to address them as needed. Having been in the business for almost 30 years I was pretty confident that the doom and gloom predictions wouldn't come to fruition."