Update 12:20 p.m.: A.W. Hoss & Son and COA Mexican Eatery & Tequileria have checked in on our Facebook page. Susie Hoss says they are one of the few places open on Roosevelt Way Northeast, and Edgar Carreon says COA will open at 4 p.m.
Also, the mail just arrived!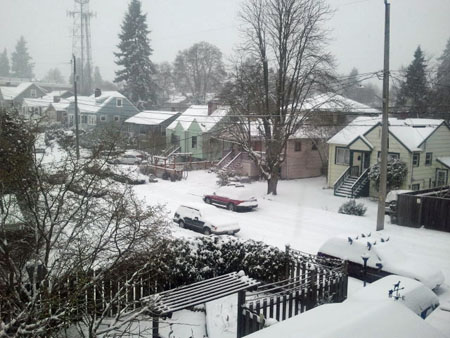 11:30 a.m.: New snow now reaching 4 inches for this morning, giving us a half-foot of snow on the ground.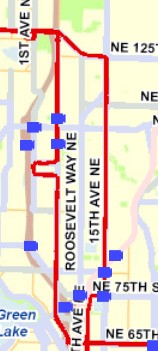 City plows have been through in the last hour, temporarily making it easier to get around on arterials. (Map shows plowed and sanded streets in red.)
Potentially more useful are the city's real-time traffic cameras. Go to that website and hover over the camera icons and see what the streets are like now.
On its Facebook page, the Maple Leaf Community Council is attempting to track road conditions. Among its reports: Lots of folks standing at bus stops, but few buses. The council also Tweeted that the fire department is dealing with wires down at 2733 N.E. 92nd St.
All three of our coffee shops have reported in as open, but Maple Leaf Ace Hardware opened, then closed until Thursday. Cooper's Alehouse says it plans to open at 2 p.m., as does the Hudson New American Public House.