Our news partner The Seattle Times posted two stories this week that should interest many, perhaps most, of us.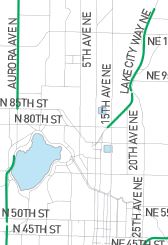 Today's piece is on a pilot program in Seattle to reduce speeds on some arterials streets from 35 mph to 20 mph. As for major streets,the plan calls for: "Review arterial speed limits and reduce to 30 mph or lower."
Seattle will try limits of 20 mph for streets in five to 10 residential areas this year — including a swath of Lake City around the library, and a piece of Seward Park Avenue South at Rainier Beach High School.

Cities may lower speeds under a bill sponsored by Rep. Cindy Ryu, D-Shoreline, that passed the Legislature in 2013.
This has been frequently discussed in Maple Leaf, but until the new legislation passed there was no legal authority for local officials to make the change. The argument is that many more pedestrians (or bicyclists) can survive being hit by a car at 20 mph than at 35-40 mph.
None of Maple Leaf's streets are directly involved in this year's change, but proposed future changes include part of Lake City Way Northeast in our neighborhood (green lines).
The plan, dubbed Vision Zero, involves a number of other changes:
The city's broad traffic-safety effort will include slower speeds, more school-zone cameras, fewer right turns on red and targeted enforcement. The name, "Vision Zero," refers to a statewide effort by law enforcement, government, urbanist and safety groups to eliminate traffic deaths and serious injuries.
The Times story is here. The full Vision Zero plan (pdf) is here.
The Times' "FYI Guy" earlier this week posted an interactive look at commute times throughout the city under the headline: "What times does your neighborhood leave for work?"
Locally, the FYI Guy says:
Very few of us leave for work in the late morning or afternoon, but it's not uncommon in areas with a large concentration of people who do shift work, such as food service or retail jobs. The University District has a high percentage, as do Northgate, downtown Seattle and many areas in south King County.
The story and map are here. Below is the 10 a.m. commute from Northgate.