A reminder that the Maple Leaf Community Council's executive board meets tonight from 7-9 p.m. at Olympic View Church, 425 N.E. 95th St.
The agenda includes updates on the Maple Leaf Reservoir Park and the community garden, together with developments at the old Waldo hospital and public safety.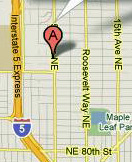 The council is also having a general meeting to hear from candidates and discuss issues on next month's general election ballot. That meeting, which in the past has drawn 150 neighbors,  is next Wednesday, Oct. 27, at Olympic View Elementary School, 504 N.E. 95th St, from 7-9 p.m.
Expected are candidates for the state Legislature, including Phyllis G. Kennedy in District 46; U.S. Congressman Jim McDermott and his challenger Bob Jeffers-Schroder; and state Supreme Court Justice Richard B. Sanders and challenger  Charlie Wiggins.
Initiatives to be discussed:
Initiative 1053: State Tax Increases
Initiative 1082: Privatizing Industrial Insurance
Initiative 1098: State Income Tax
Initiative Measures 1100/1105: Concerning liquor (beer, wine and spirits)
Initiative Measure 1107: Soda and Candy Tax
Also, tonight Senior Services is hosting "Aging Your Way," to develop a vision of a community that will support seniors as they age, at the Northgate Community Center, 10510 Fifth Ave. N.E., from 5:30 to 8:30 p.m. Jim Diers, former city director of neighborhoods, will facilitate. Food will be served.
For more information, click here. You can also e-mail dorig@seniorservices.org, or call 206-448-5757.