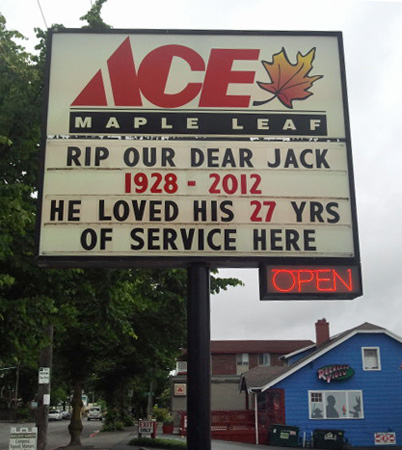 Customers who walked into Maple Leaf Ace Hardware for decades were greeted  by Jack Rucker, who worked at the neighborhood fixture for 27 years.
Jack died June 10th after a battle with cancer. He only retired from the store in early May, as his disease worsened, according to the store staff. He was 84.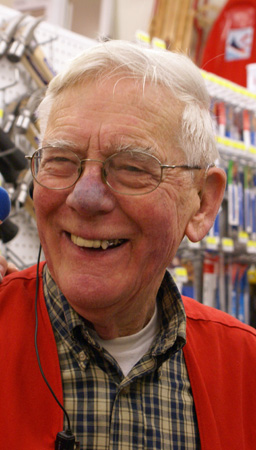 " Jack had a great life — he lived the way he wanted, enjoyed his family, his garden, his friends and church, and was always learning and doing," writes Kathy Stephenson, store co-owner.
A number of people have left comments on the store's Facebook page, one writing: "This wonderful man was the wonderful start to most of my Sunday mornings for the past 20 years or so. He was warm and welcoming always, and that sense of sincere welcome will be deeply mourned and sorely missed."
The Facebook post also states: "He treated our most important customers- the kids and dogs- so well and always had a smile ready."
The Seattle Times has posted his obituary here.
Jack was born and raised in Pullman, Washington, served in Korea and attended Washington State College and the University of Washington, where he received a degree in forestry in 1957.
According to the store:
He worked until the early 1960s in the Wood Products Lab at the University of Washington when he received a $1,000 Ottinger Fellowship, which he used to get his Masters. He then went to work at US Plywood for over twenty years. When they closed in 1985, Jack was hired by Tom and Karen Stephenson here at Ace. During most of this time and into the early 2000s Jack managed the Wood Collection for the University of Washington.

Until this last year he was still attending lectures and current events programs at the U.W. Jack was a handyman with many interests, including an expertise and deep knowledge of lumber. In the past, Jack had spun wooden bowls that were sold here at the store. For years, Jack was also responsible for producing the soil sifters that we offer. Jack was an exceptionally loyal crew member, but his dedication to his family and his church was stronger than his commitment to our store. Jack leaves behind his wife and two children. We wish them peace and share in their sorrow. He will be missed.
He is survived by his wife Evelyn; two children, Andrea and Paul; Paul's wife Noy; and two grandchildren,  Saetia and Ashland.
His memorial service is Sunday, July 8, at 1:30 p.m. at University Congregational Church of Christ, 4515 16th Ave. N.E. From the obituary: "In lieu of flowers, donations may be made to UCHA, c/o UCCUCC, 4515 16th Ave. N.E, Seattle, WA 98105-4201, or P-Patch Trust, PO Box 19748, Seattle, WA 98109-6748."