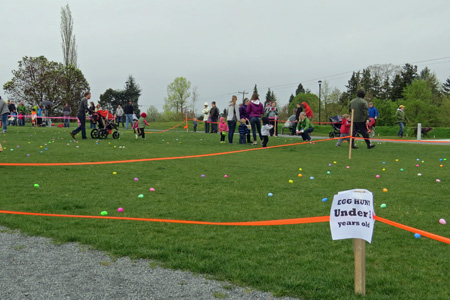 The 2014 egg hunt, before the deluge.
Maple Leaf's Lux Communities is planning its second annual Easter Egg Hunt this Saturday at Maple Leaf Reservoir Park.
This is Micah from Lux Communities. We are having an Egg Hunt again this year. It is a free event for the community. It is this Saturday, April 4th from 11 a.m. to 12:30 p.m. We will have age-graded egg hunts for children ages 2-10.
Their first hunt last year was quite a success.
Lakeview Free Methodist Church, which in the past has sponsored a hunt on the church's 15th Avenue Northeast campus, appears to this year be holding a Neighborhood Carnival on May 30th.