We're guessing that Alicia E. found the "Corey — the Compostable Apple Core" on display at the Maple Leaf Ace Hardware as part of the "Big Dig" scavenger hunt that ended this week.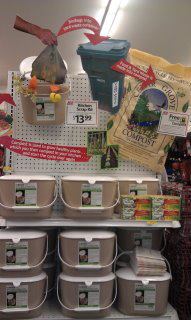 A Maple Leaf resident, Alicia is among the 20 Big Dig finalists chosen to dig through 30 yards of compost this weekend in search of $6,000 in hidden treasures, including a $3,000 yard makeover.
And there's the chance another Maple Leaf resident could join her. As an attendant of the event, starting at 1 p.m. Saturday, April 14, at Seattle Tilth's Rainier Beach Urban Farm and Wetlands, 5513 S. Cloverdale St., you will receive a coupon for a free bag of Cedar Grove compost and a chance to join the Big Dig finalists at the 45-yard-mountain of compost.
The event is part of Compost Days, a celebration of Seattle's food and yard waste composting. For more information, go to the Cedar Grove website or call 877-764-5748.