1 p.m. in Maple Leaf. Snow beginning to stick on lawns, trees but not streets. Temperature 34 degrees.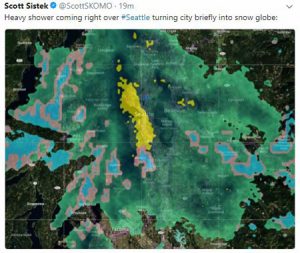 From this Thursday afternoon's National Weather Service Forecast Discussion:
National Weather Service Seattle WA
350 PM PDT Thu Nov 2 2017

.SYNOPSIS…A weather system will move through Western Washington tonight. Strong high pressure over British Columbia will give windy conditions from Whatcom county out through the San Juans. The
snow level will fall to 500 feet north of Seattle tonight. Another cool weather system will arrive Saturday night.

From KOMO's Scott Sistek:
Those winds will spread cooler air south over northwestern Washington as the night progresses, dropping snow levels down about 400-500 feet about as far south as North Seattle past midnight into early Friday morning. With some lingering showers in a cool, unstable air mass and perhaps a Convergence Zone running around, that's a low enough snow level to see some rain/snow mixed or wet snow on the hilltops north of Seattle.