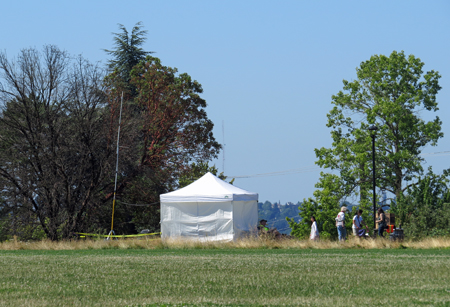 The emergency hub at the park this morning.
Expect a flurry of activity in Maple Leaf Reservoir Park Saturday from 9 a.m. to noon, as radio operators and emergency responders hold a drill in anticipation of The Big One.
This time it will be a continuation of the Cascadia Rising Subduction Zone earthquake, on day six after "the big one."
Here's a story from a previous drill in the park.
And a photo.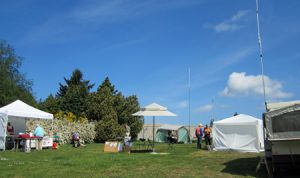 From one of the coordinators:
We will be testing radio equipment that will serve as a backup communication system in the event of a catastrophic event. The scenario for this drill will be day six after a major earthquake that damages communications and transportation infrastructure, think: no cell phones, no bridges and NO 911. Other city's' (Christchurch, New Zealand and Kobe, Japan) experiences have taught us that it could take up to two weeks for aid to appear to affected zones in a large-scale disaster. In the meantime, it will be up to us to share resources and help neighbors in need. Each drill will have a staffed information table with material on the Seattle Emergency Hubs, an all-volunteer, grass roots network organizing at the neighborhood level to create post disaster plans and promote preparedness. We are hoping to expand the small core group of neighbors that have been active in this.
Meanwhile, this from a FB post:
HUGE (50 family) GARAGE SALE – Don't Miss this one!

If you love garage sales – this is a "don't miss" one! My 50-person chorus is holding their annual fundraising garage sale this Friday & Saturday from 8:30 a.m. – 3:30 p.m, at 1221 N.E. 90th St. (Maple Leaf area).

Tons of GOOD stuff – Nintendo & games, Xbox & games, WII, Keurig, Pak 'n Play,4-drawer filing cabinets (both metal and wood), vintage chairs, Duncan Phyfe telephone table, Schwinn jogging stroller, Instep bike trailer, flat screen tv, bar stools, tons of kid toys & games & puzzles, garden stuff, sports equip, guy stuff, classy kitchen stuff, gas grill (including propane tank) and so much more.