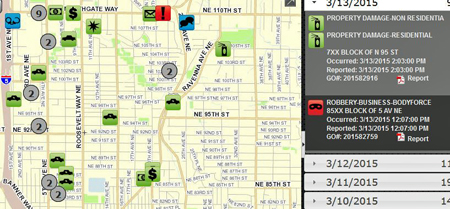 On this Ides of March:
* Chris emails that the Mug Bugs Coffee stand at 5th Avenue Northeast and Northeast 85th Street (at Rick's Chevron) was robbed o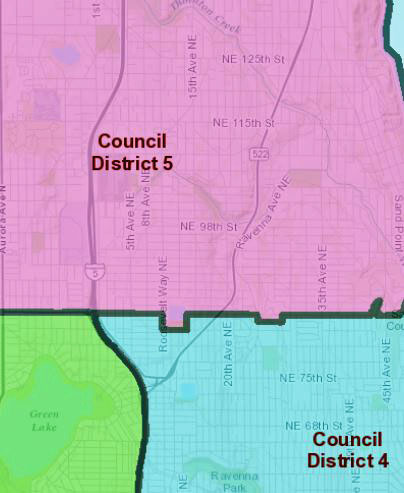 n Friday.
A Seattle Police report confirms that a "robbery business bodyforce" occurred at that location shortly after noon. The map also shows assorted burglaries and car crimes around Maple Leaf.
* More candidates emerge running for district seats in Seattle's new City Council scheme. Nearly all of Maple Leaf is in District 5, where there are currently six candidates: Sandy Brown, Mercedes Elizalde,  Debora Juarez, Mian Rice, David Toledo and Halei Watkins.
In a roundup, our news partner The Seattle Times notes that Brown leads that pack in fundraising, at $35,753.
One campaign contribution of note: super-rich Seattle venture capitalist and big-time Democratic donor Nick Hanauer last November gave $700, the maximum amount allowed, to 5th District candidate Sandy Brown. Hanauer's wife, Leslie, also gave $700…. The Hanauers live in the 5th District.
The southernmost toe of Maple Leaf is in District 4, candidates Jean Godden, Rob Johnson, Taso Lagos, Michael J. Maddux and Tony Provine. The fundraising leader is longtime council incumbent Godden at $47,678.
* Finally, it's of neighborhood interest that the blighted properties down 15th Avenue Northeast near Roosevelt High School are back in the news, as Seattle Mayor Ed Murray and other officials float the idea of tearing down houses belonging to Hugh Sisley and developing a pocket park. The Times' story is here.