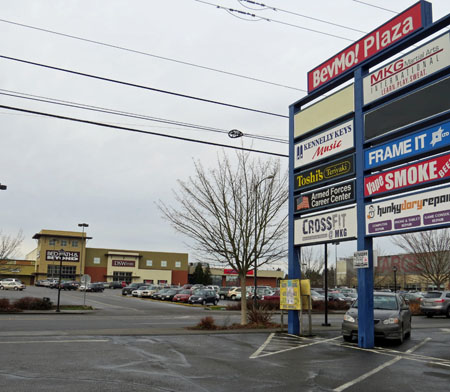 Update: Seattle Curbed.com has design drawings.
Daniel emails to say the city is reviewing proposals for more than 200 new apartments across the street from Northgate Mall:
The Seattle Department of Planning and Development posted Notices of Design Reviews on two pending construction projects in the Northgate area.

At 10720 Fifth Ave. N.E, the current location for The Tux Shop, the vacant MKG, Kennelly Keys Music, and Toshi's Teriyaki, plans have been submitted for a 7-story, 132-unit residential building with 3,000 sq. ft. of retail at street level and parking for 104 vehicles located below grade.

At 10715 Eighty Ave. N.E. the vacant former location of Gene Juarez Hair Salon, plans have been submitted for a 4-story, 83-unit residential building with 3 live/work units, 28 surface parking spaces to remain. As is the current trend in Seattle, the developer is not required to match or add any new parking space for tenants.

Public hearings on these two projects will be held on Monday, January 12, 2015 at 8:00 pm at the University Heights Community Center, 5031 University Way N.E., Room 209.