The Seattle Police Department has a new chief, a new(ish) mayor and will soon deal with a new City Council whose members will represent specific neighborhoods.
It also has new approaches to fighting crime.
Our news partner The Seattle Times has a story this week on the police "SeaStat" program – a statistics-driven way to deploy resources and hopefully reduce crime.
And, the department is re-drawing police patrol beats and shifting staffing. The changes follow a wave of criticism this fall that police are not pursuing property crimes and perhaps are too short-staffed to be effective, specifically in the North Precinct that covers Maple Leaf. The Times had an update last month.
Now the police have announced more changes, beginning this week.
For the first time since 2008, the Seattle Police Department is shifting the boundaries of its 51 police beats. The change will improve officer supervision and public safety service, better align police patrols with Seattle's neighborhoods, and achieve a major milestone in the department's work toward reform with the Department of Justice.

Beginning January 28th, the department will increase the number of patrols squads and sergeants at each of SPD's five precincts, improving each precinct's officer-to-supervisor ratio.
The full release is here.
One thing that might mean for Maple Leaf is an easier way to track crime trends.
Maple Leaf  for years has taken up chunks, but not all, of three different patrol beats in the North Precinct: Nora 3, Union 1 and Lincoln 2 (see top map), making it impossible to reliably look at crime over time in just our neighborhood. (See The problem with tracking crime in Maple Leaf.)
It's hard to say for sure, but the revised beat map (below) might place all or most of Maple Leaf into one beat, Lincoln 2.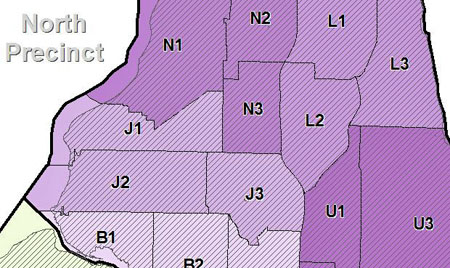 As part of the patrol map realignment, the department will also revise neighborhood-based crime data available on My Neighborhood Maps, Tweets By Beat and Data.Seattle.Gov to reflect the new beat boundaries. The new data is expected to be available by mid-February.

SPD's Tweets By Beat and My Neighborhood Maps will be offline and unavailable until February 2nd as part of the beat update.