It rained here Saturday night for the first time in 15 days – breaking a dry spell that had tomato plants gasping.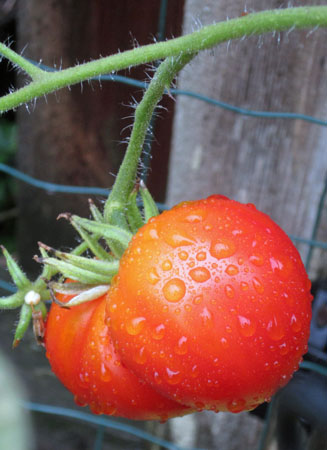 A total of 1.77  inches of rain fell at Maple Leaf Life South for the month of August.
Almost all of it fell overnight (0.76 inches) and on Aug. 13th (0.85 inches).
It's true fall doesn't officially arrive until the equinox on Sept. 23rd. But as Cliff Mass pointed out this week:
"After a beautiful summer, with warmth and relatively dry conditions from mid-July to mid-August, a reminder that we are living in the Northwest often comes in late August: the first passage of the first fall-like system."
The forecast for the rest of Labor Day weekend? Fewer Bumbershoots.
Scattered showers today turn to party sunny conditions on Monday, with a high of 72 degrees – two degrees below the normal high.
The holiday has been as hot as 94 degrees (sheesh) in 1981 and as cold as 45 degrees in 1992, according to the National Weather Service.