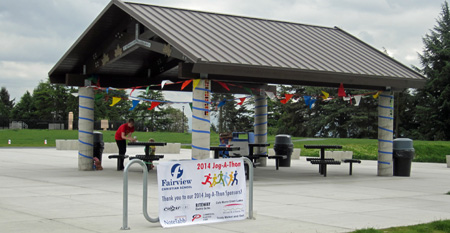 Goings-on at the Maple Leaf Reservoir Park this weekend:
Today the Fairview Christian School and Child Center is holding a Jog-a-Thon:
We're spending the day jogging, running, and enjoying the outdoors. We're raising funds for our PTF group to purchase new musical instruments for our students to use in their Performing Arts classes. Come out and support the kids as they run, skip and jump for music!
The school is at 844 N.E. 78th St.
Saturday there will be an emergency disaster drill at the pavilion from 9 a.m to noon:
The Maple Leaf Hub is a group of volunteers that will activate during a major emergency/disaster at the Maple Leaf park to help the neighborhood get through the disaster. We will help manage resources such as volunteers, tools, utilities, light search and rescue, and limited disaster first aid. For this drill it will be up by the picnic shelter on the top bench of the park. The hub has amateur radio operators to communicate with the city's Office of Emergency Management and other hubs in our region.
Sunday there will be a 30-minute fun run at the park to raise money for the Northwest SIDS Foundation:
From Garrett:
I wanted to let you know that this Sunday a group of friends and myself are putting on an event at the Maple Leaf park. It's called "The Max K".

Late last year one of our good friends (and Maple Leaf resident) lost one of their 7- month old twins to SIDS. His name was Max Hadley.

So we are putting on a 30-minute fun run event at the park with friends and family to raise money for the Northwest SIDS Foundation. Our event will be this Sunday from 3-5 p.m. The event will take place at the covered picnic area.
Finally, someone has added a gentle reminder at the north entrance to residents and their dogs: