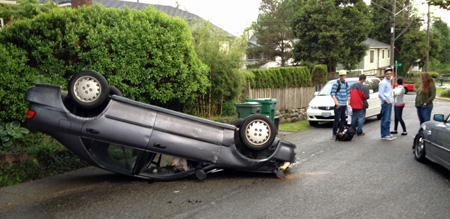 A neighbor sends this photo of a car – possibly stolen – that flipped near Eighth Avenue Northeast and Northeast 104th Street about 7:45 p.m. Sunday.
It was traveling westbound on 104th from Roosevelt Way Northeast, the neighbor said.
Four teens were in the car, got out and ran away after the flip.

The teens were described as one male African American, one male, Latino, one female Latino and African American mixed and one other female.

The kids must've been driving really fast, they were only half a block down when they struck a parked BMW and somehow flipped. A neighbor came out to help them when the two boys fled the scene. They left the girls in the car, who after being helped out fled themselves.