Update 4:30 p.m.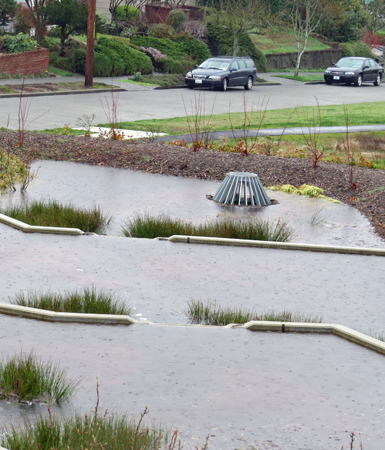 More rain – some heavier than last night – is expected to start arriving soon and last into Thursday.
"While the rain let up toward mid-morning and the sun could even be found peeking through the clouds, a second, stronger storm was racing toward the region, due in just after the evening commute finishes for another round of heavy rains and blustery winds," posted KOMO-TV weatherman Scott Sistek.
And the National Weather Service, about a half-hour ago, updated its  Special Weather Statement: "HEAVY RAINFALL IS EXPECTED TO
START THIS AFTERNOON AND TOTAL 1 TO 3 INCHES BY TOMORROW AFTERNOON. THIS AMOUNT OF RAIN WILL PUT EXTRA PRESSURE ON SOIL INSTABILITY."
The weather service's Seattle office thinks the rain might beat the commute:  "(It) WILL BE INTO PUGET SOUND NEAR OR PRIOR TO COMMUTE TIME. WV IMAGERY SHOWS THIS SYSTEM HAS ENTRAINED SUB-TROPICAL MOISTURE WAY OUT NEAR HAWAII."
————————————-
The city's Department of Transportation tweets a half-hour ago: "This is the worst I've seen the map in awhile … red everywhere!!"
At Maple Leaf Life South, 1.53 inches of rain overnight.
We don't really get a break until Friday, forecasters say.
On Facebook, the National Weather Service said:
"Be careful during your morning commute today. We have received reports of standing water on roadways from heavy rains overnight. We have almost an inch already since midnight here in north Seattle!"