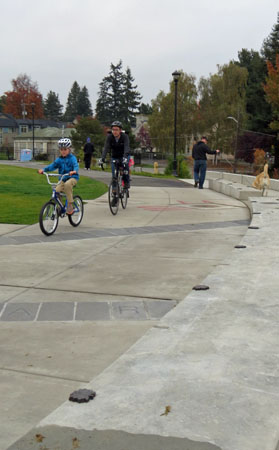 Back when the Maple Leaf Reservoir Park opened, several people wondered about the paved park path.
Mostly, they wondered how long it is. In comments on our post from the time, David Miller said it was about half a mile.
Now Alicia emails:
We've been wondering what the distance around the big, paved loop at Maple Leaf park. On Christmas day, we took a measuring wheel to find out. It's about 2480 feet around. That's almost half a mile.

While we were measuring, a dozen people stopped to ask us what the distance was. Could you publish it for folks?
Update: "I asked the parks dept about the length of the path when the park first opened. The response:  'The outer asphalt pathway is 2,540 feet, so two laps is 200 feet shy of one mile.' – Maryanne"
Maple Leaf also has a new Kickstarter project – Stacy Brewer of the Seattle Urban Farm School is trying to raise money to turn her garage on Northeast 97th Street into a schoolhouse so she doesn't have to teach classes in her living room.
Her goal is $12,815. Her Kickstarter page is here.
Finally, we picked up several dozen comments on our post about Seattle considering whether to pick up trash only every other week.
Since then the City Council has unanimously passed a bill that would open negotiations with trash haulers on the possibility. Crosscut has an update here.
And this week  the Seattle Times has an editorial on the subject, although on reading it appears the newspaper's position is "we should think about it."