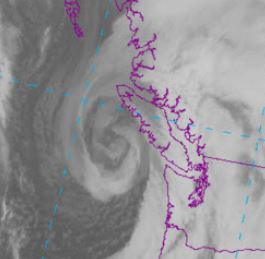 Update :Metro earlier Tweeted: "If you're just checking in, you're facing a wet morning with horrible traffic everywhere. You can't leave early enough."
A wind advisory is in effect this morning through 7 p.m 8 p.m. Expect winds gusting to 45 mph in some places.
The National Weather Service's Seattle office issued the advisory early  this morning. It also forecasts a 100 percent chance of rain (just look outside).
The screen shot at right, from Cliff Mass's weather blog, shows the incoming storm.
The advisory:
WIND…SOUTHERLY WINDS 20 TO 30 MPH WITH LOCAL GUSTS AROUND 45 MPH…BECOMING SOUTHWEST TO WEST IN THE AFTERNOON.

* IMPACTS…DOWNED TREE LIMBS AND LOCAL POWER OUTAGES ARE POSSIBLE.

* TIMING…WINDS WILL INCREASE TODAY…WITH THE WINDIEST PERIOD PROBABLY DURING THE AFTERNOON…THEN EASE THIS EVENING.
Also this, from the forecast discussion: "THE AREAS MORE LIKELY TO GET THE SORT OF GUSTS THAT MIGHT TAKE DOWN SOME LIMBS WOULD BE FROM ABOUT SEATTLE  SOUTH AND ON THE COAST."
Don't expect anything approaching Saturday's storm, though Mass notes: "I  would not take that Westport or Neah Bay fishing trip today.
He also uses takes the opportunity to write "poisonous tail of the bent-back occlusion" – a phrase he's used before.
"I love that phrase."