Update Nov. 29:
From the National Weather Service special weather statement this morning:
AT THIS TIME…IT LOOKS  LIKE MANY LOWLAND LOCATIONS WILL ESCAPE WITH LITTLE OR NO

ACCUMULATING SNOW. REGARDING THE POSSIBILITY OF LOWLAND SNOW ON MONDAY…IT IS IMPORTANT TO NOTE THAT THERE IS A GREAT DEAL OF UNCERTAINTY WITH A 4-DAY WEATHER FORECAST…SO CHECK BACK THROUGH THIS WEEKEND FOR THE LATEST FORECASTS…ALONG WITH ANY POSSIBLE WATCHES OR WARNINGS.

IF YOU ARE TRYING TO CHOOSE BETWEEN TRAVELING ACROSS THE CASCADES ON SATURDAY OR ON SUNDAY…SATURDAY WILL BE THE MORE FAVORABLE WEATHER DAY FOR TRAVELERS. IF YOU MUST TRAVEL ON SUNDAY…YOU MAY BEAT THE WINTRY CONDITIONS BY TRAVELING IN THE MORNING…BUT HEAVY RAIN WILL GREET YOU INSTEAD ON THE TRIP THROUGH THE MOUNTAINS.
—————————-
The radio weather forecast this morning warns travelers to get home before Sunday night, when the second major winter storm of the season is expected to hit the Cascades.
It may well snow here, too, as the weekend ends. The official forecast for Maple Leaf on Monday is: "Snow likely. Cloudy, with a high near 37."
A special weather statement from the National Weather Service reads:
HEAVY SNOWFALL IS POSSIBLE IN THE MOUNTAINS  BEGINNING  LATE SATURDAY NIGHT OR SUNDAY. CHANGE TO MUCH COLDER WEATHER IS EXPECTED THROUGHOUT WESTERN WASHINGTON SUNDAY NIGHT THROUGH EARLY NEXT WEEK.

SNOW LEVELS AROUND 5000 FEET LATE SATURDAY NIGHT OR EARLY SUNDAY WILL RAPIDLY FALL TO BELOW 2000 FEET BY SUNDAY EVENING AND TO BELOW 500 FEET LATE SUNDAY NIGHT.

SNOWFALL AMOUNTS IN THE PASSES WILL LIKELY BE QUITE HEAVY. SATURDAY WILL BE A MUCH BETTER TRAVEL DAY THROUGH THE PASSES THAN SUNDAY.
The top of Maple Leaf is 466 feet above sea level.
Cliff Mass, at the University of Washington, posted the chart at  right, saying it's hard to know how much confidence to place in current forecasts.  "Here is the total snowfall for the 24h ending 4 AM on Monday. Lots of snow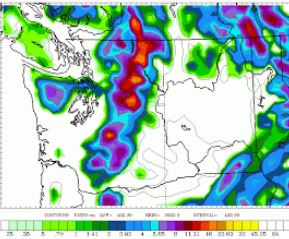 over the mountains (foot plus over the Cascades), with several inches over Seattle to Everett.
"The big action will be on Sunday and early Monday…unless the models change, again. You coming home from east of the Cascade crest? Perhaps better to return on Saturday."
Traffic in town will also be affected Sunday by the Seattle Marathon.
The state transportation department notes:
The I-90 express lanes will be closed to all traffic from 5 to 11:30 a.m. when they will open in the eastbound direction.
The I-5 express lanes will be closed until 9:30 a.m., when they will reopen to southbound traffic.
The northbound I-5 off-ramp to Lakeview Boulevard will be closed from 7 a.m. to 4 p.m.
The westbound State Route 520 exit to East Roanoke Street will be closed from 7 a.m. to 3 p.m.