Our news partner The Seattle Times has posted two maps, in connection with different stories, that tell us something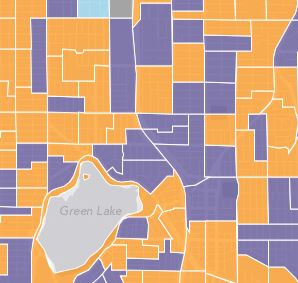 about the neighborhood.
In one story, the Times looks at primary voting patterns in the Seattle mayor's race, won by incumbent Mike McGinn and challenger Ed Murray.
In Maple Leaf, the interactive map shows, Murray (purple) might have a slight edge on McGinn (orange).
Follow the link to the map and click for precinct-by-precinct details, including how the other candidates did.
The other story examines soaring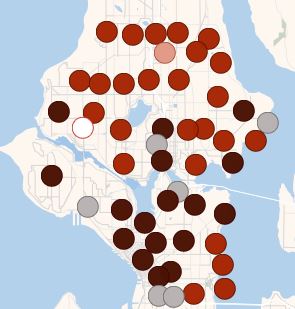 rent increases by neighborhood.
In Maple Leaf the average rent for a two-bedroom apartment is now $1,656, the Times found – a 6 percent increase over the last year. (The Times has a curious idea of where Maple Leaf is, however.)
The rent map is also interactive, showing average income, rents and increases by neighborhood. And it invites your rental stories – so far only one Maple Leaf resident has participated.