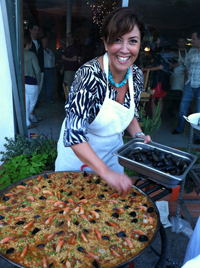 Kristine Pottle, right, is handing the reins of The Wandering Cafe, her catering company at 7533 Lake City Way, to her chef Lindsey Hubbard with nothing less than yet another party (see photos from last summer's Paella Night here).
In an email to Wandering Cafe friends and fans, Pottle announced that she's heading back with her family to Buffalo, N.Y., but that you can bid her farewell and Hubbard hello at an open house featuring cocktails and hors d'oeuvres from 4-7 p.m. Tuesday, Aug. 27.
For more information or to inquire about attending, call (206) 367-3676.