The buckets of cash that Seattle's school-zone speed cameras are raking in – $3 million in their first half-year of operation – will now only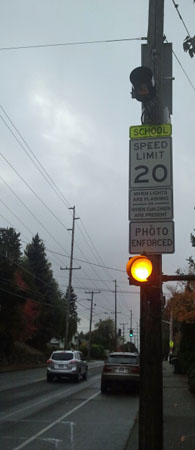 be spent on school-related projects. (Editor: see comment by Lisa, below.)
That includes the 6,000 tickets issued through June by Maple Leaf's cameras, on Fifth Avenue Northeast outside Olympic View Elementary School.
The Seattle City Council unanimously voted this afternoon to restrict how cash from the $189 tickets from the eight school-zone cameras, in four locations, can be spent, our news partner The Seattle Times is reporting.
The separate fund the council established today would require every penny to be spent on operating and maintaining the cameras; safety education; and capital-improvement projects, such as repainted crosswalks, new sidewalks, lights and more camera installations.
The vote was a defeat for Mayor Mike McGinn, who wanted to keep the cash in the city's general fund, while promising to prioritize school improvements.