Update: 9 p.m.Wednesday, July 31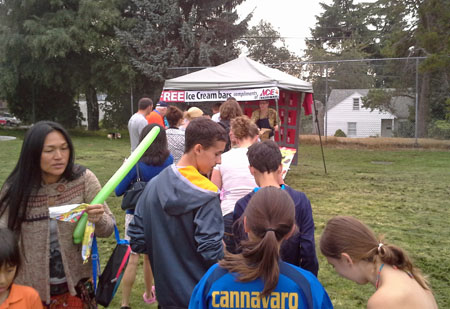 The transplanted Summer Social was a smash success, despite the temporary location at Olympic View Elementary School, the thunder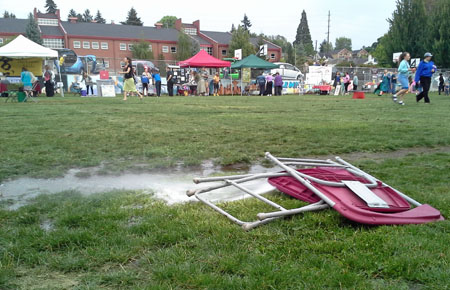 and raindrops right up to opening hour, and the automatic sprinkler system that came on just after opening. See photo of sprinkler head(s) covered with chairs, and, later, pickle buckets from Maple Leaf Ace Hardware.
More photos tomorrow from Dane Doerflinger Photography.
Update Wednesday July 31: Summer Social in 4 1/2 hours!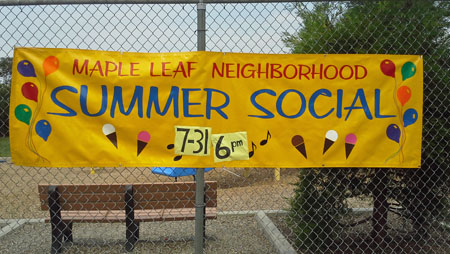 Original post :

Photo from 2012 Summer Social by Dane Doerflinger, a photographer and Maple Leaf resident.
Maple Leaf's annual celebration of community and ice cream is coming up tomorrow at a new venue as we await the grand opening of the new Maple Leaf Reservoir Park later this fall. Join the neighborhood from 6-8 p.m. Wednesday, July 31, for the Maple Leaf Summer Ice Cream Social at Olympic View Elementary School, 504 N.E. 95th St., for free ice cream, live entertainment, fun for kids, and informational booths from neighborhood businesses and city agencies.
Be sure to stop by the Maple Leaf Life booth and say hi! We put out requests for photos from our proud gardeners, but so far have only one submission. We'll post that and hope to receive more photos for our Best Garden contest that we're letting you, our readers, stop by and vote for.
We'll post the winning photos here and on our Facebook page. See you tomorrow night at the Summer Social!