Catherine emails this morning: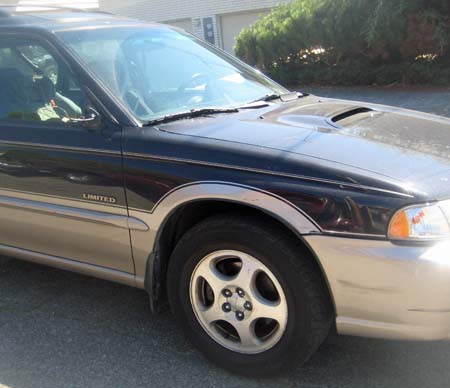 Last night between the hrs of 12:30-8 a.m. our family and business car was stolen from right out front of our house.

This is a travesty for us as we own & operate a small family pickling business and it is our only vehicle to make deliveries of our product to our restaurant accounts throughout the city. Tomorrow is our delivery day so we are pretty upset about what has happened as you can imagine.

To make matters worse we had just purchased $300 worth of pickling jars and put $50 worth of gas in it.
They live at 12th Avenue Northeast and Northeast 100th Street. The license plate is ALC7551.
The car is a 1999 Black Subaru Outback, Limited edition with 2 sunroofs but a few little dings on the right front panel. I have attached the best pic I have of it.

There is a bright red bumper sticker on the back that say's "Cape Flattery" in white letters that makes it very distinguishable and as I mentioned, the back was completely full of cases of pickling jars as of last night.

Of course the police have been notified and it is not in any impound so it could be anywhere at this point though the police just told me that they are finding many of them near the Children's Hospital area.

It did not have an alarm or tracking system in it.

Thank you for your help in advance.
According to the police crime map, nine other vehicles have been stolen or prowled in the neighborhood since we last wrote about these crimes.
A bit of good news: Patricia emailed earlier this week to say a stolen adult bike was dumped in her yard and she'd like to get it back to the owner .
Found at 114th and Roosevelt:

Some shady dude ditched a sweet blue Italian bike in our flower bed. We called SPD but they wouldn't take it because it hadn't been reported. It has a word lock that is still wrapped around the frame and a tire kit. If you think it's yours just send me the word. Sure hope we can reunite this beauty with its owner.